Critics slam 'shameless' drug subsidy policy flip
STAGNANT STANDARD? A DPP legislator joined health activists in challenging the government over a plan that they said lets medical firms peddle 'problematic' drugs
The National Health Insurance Civic Surveillance Alliance and a Democratic Progressive Party (DPP) legislator yesterday accused the Food and Drug Administration (FDA) and the National Health Insurance Administration (NHIA) of aiding pharmaceutical companies in a policy U-turn that allows firms to continue subsidizing medicines that have not received certification through the Pharmaceutical Inspection Convention and Pharmaceutical Inspection Co-operation Scheme (PIC/S) or the guide to Good Manufacturing Practice for medicinal products (GMP).
The then-Department of Health in July 2009 upgraded the standards medical manufacturers must follow under the international PIC/S GMP framework to improve the quality of pharmaceuticals manufactured in Taiwan.
"At the time, the department stipulated a regulation requiring pharmaceutical firms to elevate the quality of their production lines in a manner that met the requirements for a PIC/S certification before Jan. 1 next year. Otherwise, they would be barred from manufacturing and selling drugs in the nation and their products would stop being covered by the NHI program," alliance spokesperson Eva Teng (滕西華) told a news conference in Taipei yesterday morning.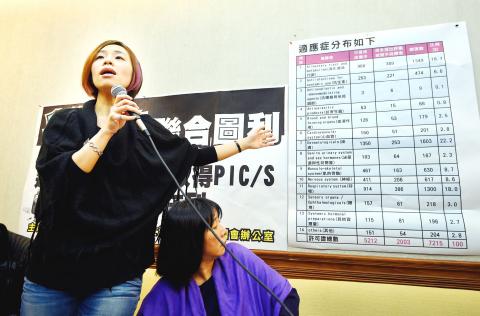 National Health Insurance Civilian Surveillance Alliance spokesperson Eva Teng, left, speaks at a press conference in Taipei yesterday.
Photo: Fang Pin-chao, Taipei Times
The department reiterated its determination to implement the regulation in a news release in October 2012, Teng said.
It also touted the NT$2.2 billion (US$70 million) it had invested over the previous three years in helping pharmaceutical companies upgrade their facilities, which it said resulted in 3,294 medicines certified through PIC/S, she added.
However, as of Nov. 10, a total of 7,215 drug licenses owned by 59 pharmaceutical firms had yet to obtain PIC/S certification, Teng said.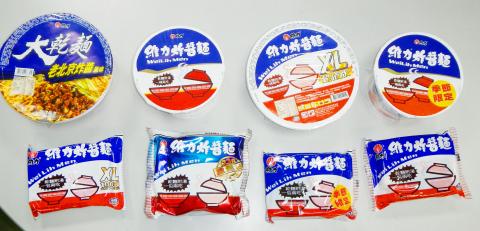 Packages of Wei Lih Food Industrial Co instant noodles said to contain dimethyl yellow are displayed in an undated photograph.
Photocopy by Wu Wei-gung, Taipei Times
"Thirty-six of the companies still require further improvements, while 23 did not even apply for the certification at all. More absurd is that even vaccine maker Adimmune Corp (國光生技), in which the government holds a considerable number of shares, belongs in the first category," Teng said.
Instead of upholding its principles, Teng said the FDA made a decision in the latter half of this year to allow medical manufacturers to continue peddling uncertified drugs indefinitely, as long as they are produced before the end of this year.
"As a result, the NHIA has no choice other than to keep subsidizing these deficient medicines with the premiums of insured people," Teng said.
Association convener Huang Sue-ying (黃淑英) said the administration's policy reversal has sent a message to business owners that they can get whatever they want just by behaving without shame.
"The government's reluctance to stick to its policies and its inclination to succumb to pressure from big corporations are the root causes of the nation's endless string of food scandals," Huang said.
DPP Legislator Lin Shu-fen (林淑芬) demanded that the FDA send a list of the thousands of uncertified medicines to medical institutions nationwide to avoid drugs described as "potentially problematic" being prescribed to the public.
Separately yesterday, the FDA released the names of 13 more food manufacturers whose products have been contaminated by Chien Hsin Enterprise's (芊鑫實業社) prohibited dimethyl yellow-laced soybean emulsifier.
As of yesterday, the agency had made known 23 of the 44 firms that had purchased the food additive from Greater Tainan-based Chien Hsin via its 12 distributors this year, affecting 73 kinds of food products so far.
The Changhua County Government's Public Health Bureau yesterday also ordered Wei Lih Food Industrial Co (維力食品工業) to pull its two popular instant noodle products off shelves — Jah Jan Instant Noodle (維力炸醬麵) and the Beijing-style fried sauce instant noodle sold under the Ta Kan Mien (大乾麵) brand — after their seasoning packets were found to have been manufactured with tofu skin made with the emulsifier.
Comments will be moderated. Keep comments relevant to the article. Remarks containing abusive and obscene language, personal attacks of any kind or promotion will be removed and the user banned. Final decision will be at the discretion of the Taipei Times.