Selection committee head turns on Ko
NOT CULTURED: Yen Hung-ya said that Ko had pre-selected the director of the culture department and that recordings of committee meetings should be released
Former Taipei culture department director selection committee member Yen Hung-ya (閻鴻亞) yesterday protested outside independent Taipei mayor-elect Ko Wen-je's (柯文哲) office, saying the selection process lacked transparency, even though it appeared to be open.
Carrying banners that read "fake election, true unilateral appointment," Yen, a poet who is better known by his pseudonym Hung Hung (鴻鴻), was joined by other figures in the field of culture in a protest of the selection process.
Yen and several other of Ko's policy advisers and selection committee members, including fashion designer Alice Wang (王艾莉) and exhibition organizer Hu Yung-fen (胡永芬), have accused Ko and his close associates of having pre-selected Ni Chong-hua (倪重華) — who is said to have been selected to take over as director, although Ko's office is yet to confirm it — despite an apperently open selection process.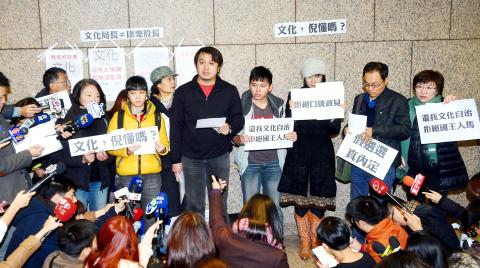 People from the cultural sector protest outside the office of Taipei mayor-elect Ko Wen-je yesterday, demanding that the selection process for city's department of culutre director be made public.
Photo: Wang Min-wei, Taipei Times
"With 14 committee members casting their votes, Ni would have required 9.3 votes — which should be counted as 10 — to pass the two thirds threshold to become a finalist," Yen told the media. "However, he only garnered nine votes."
"I admit that it is our fault as the selection committee, because we're bad at math, I apologize for it and request that the selection process be redone due to the error," Yen said.
Wu Mu-ching (吳牧青), an art critic, called on Ko's office to publicize interview and selection committee meeting records for public review, and to have another vote for the finalists.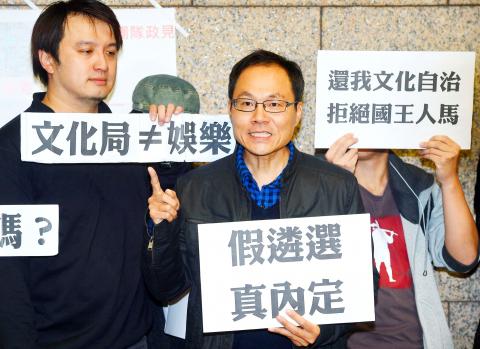 Poet Hung Hung, holds a sign saying "bogus selection, internal appointment," during a protest yesterday against the process for selecting the Taipei department of culture director.
Photo: Wang Min-wei, Taipei Times
"A secretary of deputy mayor-to-be Teng Chia-chi [鄧家基] called selection committee members, trying to convince them to vote for Ni," Wu said.
However, when asked by the media regarding when Teng's secretary made the call and who received it, Wu said he was "not clear about it."
Responding to the allegations, Teng said that the process was to have the selection committee pick three finalists for Ko to interview and choose for director.
"We have no idea the number of votes each [of the three finalists] received, and have no idea whether Ni passed the two-thirds threshold," Teng said. "We respect the selection committee members' decision."
Teng went on to say that he agrees with publicizing the recordings of committee meetings if there are such recordings, while he denied trying to convince anyone to vote for a particular candidate.
Committee convener Lee Ming-tsung (李明璁), on the other hand, said that he does not see any problem with the process, and would support making everything public.
However, he added that he would not serve on the committee again if Ko's office decides to conduct the selection again.
Comments will be moderated. Keep comments relevant to the article. Remarks containing abusive and obscene language, personal attacks of any kind or promotion will be removed and the user banned. Final decision will be at the discretion of the Taipei Times.