Activists target listening tests
URBAN-RURAL DIVIDE: Saying rural students lack access to cram school English courses, representatives of education industry groups protested yesterday in Taipei
English-language listening exams should not be used as a baseline for college admission, civil activists said yesterday.
Representatives of the National Senior-High School Teachers' Union, the National Educational Industry Union, the Taiwan Education Movement and the Parental Alliance on 12-year Education gathered outside the gates of the Ministry of Education's headquarters in Taipei, presenting a petition calling on the ministry to forbid colleges from requiring students to achieve certain scores on the Test of English Listening Comprehension (TELC) to gain admission.
Activists said that requiring scores on the English listening test was unfair to children from rural or poor backgrounds, because they lack the chances to study English enjoyed by more privileged students.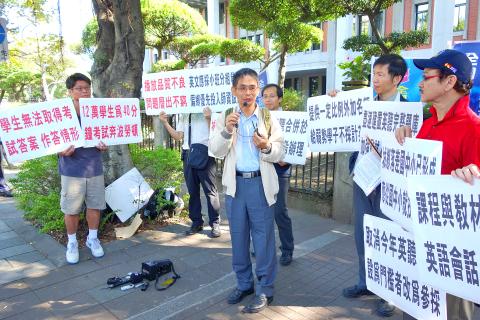 National Hualien Girls' Senior-High School teacher Hung Lung-chiu, center, speaks during a news conference outside the Ministry of Education in Taipei yesterday, condemning English-language listening tests in college admissions.
Photo: Wu Po-hsuan, Taipei Times
"The TELC is extremely difficult for those who live in remote areas," said Hung Lung-chiu (洪龍秋) an instructor at National Hualien Girls' Senior-High School. "Their problem is they do not have the [urban learning] environment."
He said that because English courses in public schools focus on reading and writing, most students who perform well on the listening exam have taken extensive courses at cram schools. Such courses are expensive and available only in urban areas, putting them out of the reach of students from poor or rural backgrounds, he added.
National Senior-High School Teachers' Union director Pai Hung-shan (白宏杉) said that over the past two years, just 5 percent of students in the nation's rural eastern counties received an "A" grade on the listening exam, compared with 20 percent of students in more urbanized northern counties and cities. He called on the ministry to invest more resources into English education in rural areas, reduce class sizes and hire foreign teachers to teach conversational English.
"Allowing different departments to make their own decision is good policy," said Chuang Jung-hui (莊榮輝), executive secretary of the College Recruitment Commission Joint Board.
He said the rules do not require the use of listening test scores as a baseline for admissions, adding that it makes sense for certain programs — such as English departments — to require listening scores.
The Ministry of Education and College Recruitment Commission Joint Board said that they would internally discuss activists' demands, but added that changes for the upcoming admissions cycle were unlikely because admission policies have already been announced.
Comments will be moderated. Keep comments relevant to the article. Remarks containing abusive and obscene language, personal attacks of any kind or promotion will be removed and the user banned. Final decision will be at the discretion of the Taipei Times.