FEATURE: WWII subs still key to Taiwan's aging naval fleet
At 70 years old, Taiwan's World War II-era Hai Pao submarine would not be out of place in a museum, but the antique vessel is still part of the navy — a sign of the nation's ongoing struggle to strengthen its fleet.
The sub's interior gleams with highly polished copper and is the pride of its crew, but the fact that the former US warship is still on active duty is testament to Taiwan's decades-long battle to build up its submarine force, with potential suppliers wary of jeopardizing relations with China.
China has opposed any arms sales to Taiwan.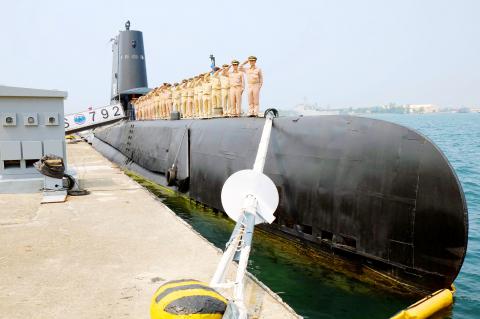 Crew members salute on the Hai Pao Guppy-class submarine at Tsoying Naval Base in Greater Kaohsiung on Sept. 30.
Photo: AFP
Yet a modern submarine fleet is critical for Taiwan's defense, analysts say.
"Submarines would be a credible, survivable deterrent to an opponent's use of force and thus make use of force less likely," said Mark Stokes, executive director of the Project 2049 Institute, a US-based think tank on Asian security and public policy. "They would complicate [China's] People's Liberation Army planning in a variety of scenarios."
Then-US president George W. Bush approved the sale of eight conventional submarines to Taiwan in April 2001, but they never materialized as Washington focused on its development of nuclear subs.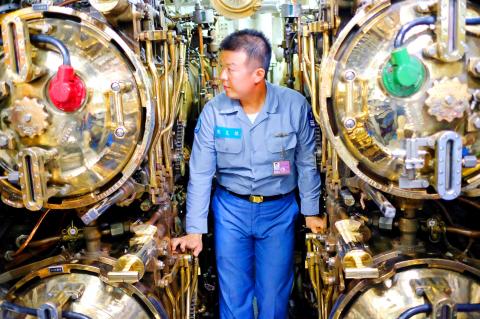 A crew member checks a torpedo launcher in the Hai Pao Guppy-class submarine at Tsoying Naval Base in Greater Kaohsiung on Sept. 30.
Photo: AFP
Germany and Spain, two of the world's few submarine exporting countries, have also declined to supply Taiwan in what commentators interpret as fear of offending China.
Aside from two aging subs built in the 1940s, Taiwan's navy operates two other Dutch-built submarines which were commissioned in the late 1980s.
The number is in stark contrast to the Chinese navy, which now owns more than 60 submarines, including 14 that are nuclear-powered.
An official evaluation this year of a potential domestic submarine-building project was "pretty positive," Chinese Nationalist Party (KMT) Legislator Lin Yu-fang (林郁方) said, who sits on the legislature's Foreign Affairs and National Defense Committee.
"The government might set aside a budget to officially launch the Indigenous Defense Submarine project," he said, though the proposals have yet to be given the green light.
Taiwan is seeking to collaborate with the US on the project, Lin said.
The US remains the nation's leading arms supplier, despite a lack of diplomatic ties.
Taiwan produced 130 Indigenous Defense Fighter (IDF) jets with technological aid from the US in the 1990s.
That project came after the US had refused to sell jet fighters to Taiwan, under pressure from Beijing.
Lin and a legislative group recently returned from Washington, where they discussed defense supply plans with government officials and representatives, focusing on the potential sub program.
"They used to be cold on the issue [of submarines], but this time was different. They were listening attentively when we raised the issue again. They have changed their attitude because we have become active on the deal," Lin said.
Supporters of the project say Washington could reduce political pressure from Beijing if it supplies fighting systems and know-how, rather than the new submarines themselves.
For now, Taiwan's two World War II-era Guppy submarines — including the Hai Pao. whose name means "Seal" — remain central to their fleet.
Taiwan bought the Hai Pao, then called Tusk, from the US in 1973 and the vintage sub recently returned from the nation's biggest annual naval war game.
The fleet also includes the aging Hai Shih, or "Sea Lion" — another former US submarine built in the 1940s.
Captain of the Hai Pao Liu Si-wei said that his US peers were astonished to hear the antique subs were still in service.
Liu finished an advanced submarine officer training program in the US last year and several of his classmates are now captains of US nuclear-powered submarines.
"When they heard that the two submarines were still on active duty, several of my classmates said: 'Fantastic.' They told me, if permitted, they would like very much to have a look at them," Liu said from on board the Hai Pao, which was docked at the Tso-ying naval base.
The navy is planning to spend more than NT$800 million (US $26.35 million) to overhaul one of the old subs next year.
Both will get new hulls as they are currently unable to dive more than 20m — less than a 10th of their design depth — due to warped pressure hulls and metal fatigue.
Taiwan's ultimate ambitions to build its own subs are not pie in the sky, says Stokes — Taiwan has already built a 400,000-tonne oil tanker and seven navy frigates, among other vessels.
"The submarine program would mostly likely be based on a new design or a significant modification of an existing design," Stokes said.
"Taiwan's shipbuilding industry is one of the best in the world," he said.
Comments will be moderated. Keep comments relevant to the article. Remarks containing abusive and obscene language, personal attacks of any kind or promotion will be removed and the user banned. Final decision will be at the discretion of the Taipei Times.