Ko opts for parade rally
Instead of holding a traditional large campaign rally, independent Taipei mayoral candidate Ko Wen-je (柯文哲) said that he would have a parade and invited residents to take part and have fun.
"My slogans for the election are 'Let us begin to change Taiwan from Taipei,' and 'Let us change Taipei by changing the culture,'" Ko told a news conference yesterday while announcing the parade. "So rather than saying this is an election, I would call it a culture-oriented social movement. This is the first election campaign with a focus on changing the culture."
Therefore, the parade is intended to show that this is a different campaign and to bid farewell to political polarization, Ko said.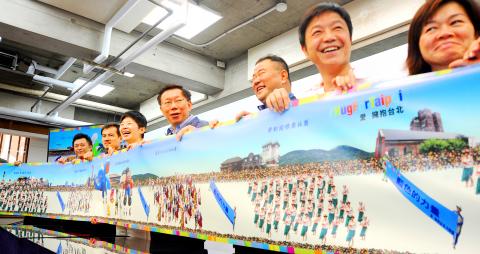 Independent Taipei mayoral candidate Ko Wen-je, left, and others hold a poster for a planned parade at a press conference in Taipei yesterday.
Photo: Liu Hsin-de, Taipei Times
Ko said that the parade would depart from Liberty Square in Taipei at 2pm on Nov. 23 and end at Taipei City Hall.
The parade would be divided into symbolic colors — red, orange, yellow and others — representing such ideas as courage, passion, freedom, equality and tolerance.
"Everyone is invited to take part and dress up however they like," Ko said.
He added that he has reminded his campaign team that they should refrain from negative or sensational campaigning, large-scale mobilization or promising money to anyone.
"However, my assistants suggested that there should still be an opportunity for our supporters to come out and participate, therefore, we made the compromise to — instead of having a campaign rally — have a festival-style parade," Ko said.
Comments will be moderated. Keep comments relevant to the article. Remarks containing abusive and obscene language, personal attacks of any kind or promotion will be removed and the user banned. Final decision will be at the discretion of the Taipei Times.