Preliminary inspection of new MRT line completed
The Taipei City Government yesterday conducted a preliminary inspection of the Taipei Rapid Transit Corp's (TRTC) Songshan portion of the under-construction Xindian-Songshan line with hopes of starting service by next month, it said.
The Xindian-Songshan line is to become the third east-west line in Taipei, it added.
The completion of the Songshan line is also to split the Tamsui line from the Xindian line, the TRTC said.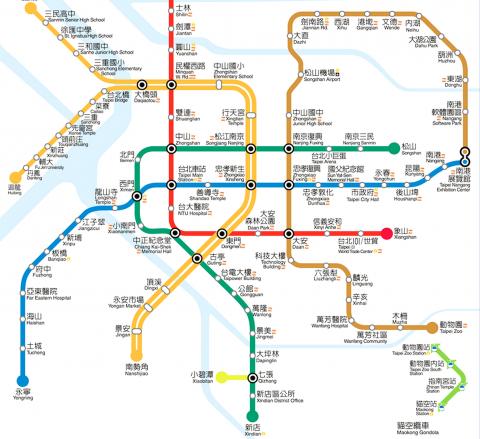 A Taipei MRT route map shows the new Songshan portion of the planned Xindian-Songshan line, in green.
Photo: Taipei Rapid Transit Corp
The city estimates the completed Songshan line to be 8.5km long with eight stations: Ximen, Beimen, Zhongshan, Songjiang-Nanjing, Nanjing-Fuxing, the Taipei Arena, Nanjing-Sanmin and the terminal Songshan Station.
A trip from Songshan to Ximen is expected to take 15 minutes, the TRTC said.
The Songshan line is to connect with the Xindian line, while the Tamsui line would change its terminal station to Xiangshan Station, though the lines would share a stop at Chiang Kai-shek Memorial Hall Station.
All five MRT lines would henceforth be independent lines, ending commuters' concerns about boarding a train going to a different line, the TRTC said.
The preliminary inspection team yesterday reported that bus lines need to improve their stop-over routes, that urinal sensors were malfunctioning and there was a lack of clear instructions in some areas.
The TRTC said such problems would be resolved within the week.
It added added that it would announce the official date the Songshan line opens after the defects have been resolved, saying that in accordance with past practices, the new line would be free to ride for a month.
Comments will be moderated. Keep comments relevant to the article. Remarks containing abusive and obscene language, personal attacks of any kind or promotion will be removed and the user banned. Final decision will be at the discretion of the Taipei Times.