TAIWAN RESPONDS: 'KMT, stop negotiations with China': TSU legislators
Taiwan Solidarity Union (TSU) legislators reacted to violent crackdowns on peaceful demonstrators in Hong Kong by yesterday calling on the Chinese Nationalist Party (KMT) government to suspend talks with China.
TSU caucus whip Lai Zhen-chang (賴振昌) said that China has broken the promises it gave to Tibet in the 17-Point Peace Agreement signed in 1951 and those given to Hong Kong — that it would be allowed autonomy for at least 50 years — prior to China's takeover of the territory in 1997.
"This shows that any agreements signed with China are meaningless," he said.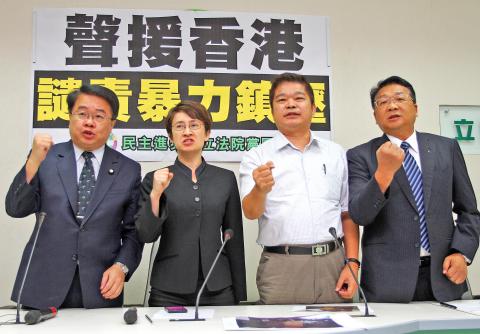 From left to right, Democratic Progressive Party legislators Wu Ping-jui, Hsiao Bi-khim, Tsai Huang-liang and Chen Ou-po raise their fists to express solidarity with protesters in Hong Kong at a news conference in Taipei yesterday.
Photo: Chien Jung-fong, Taipei Times
TSU Legislator Chou Ni-an (周倪安) said that as Taiwan and Hong Kong have between 40 and 50 percent dependency on foreign trade, "We should learn the lesson from Hong Kong on what might happen when we are economically overdependent on China."
"The TSU condemns Hong Kong police for violence against student protesters and we voice our support for Hong Kong's campaign for democracy," she added. "We also call on the government to learn from Hong Kong and suspend the signing of any agreements with China."
Separately, voicing their support for the pro-democracy activists in Hong Kong, Democratic Progressive Party (DPP) legislators yesterday said they would propose a resolution against China's "one country, two systems" framework.
"The DPP caucus strongly condemns violent crackdowns and any acts against democracy," DPP caucus whip Hsiao Bi-khim (蕭美琴) told a news conference at the caucus office yesterday. "The caucus will also propose a resolution to show our concerns for the democratic movement in Hong Kong, as well as our objection to the 'one country, two systems' scheme."
DPP Legislator Tsai Huang-liang (蔡煌瑯) said that what is happening in Hong Kong is a lesson for Taiwan.
"I felt saddened last night when I saw a picture on the Internet of a man holding a placard that read: 'I am Hong Kongese; I would like to urge all Taiwanese to stand on our corpses and think about your future,'" he said. "The crackdown in Hong Kong teaches the lesson that 'one country, two systems' is only a big lie. No matter which political party you support, all Taiwanese should show support for Hong Kong's democracy [movement]."
Comments will be moderated. Keep comments relevant to the article. Remarks containing abusive and obscene language, personal attacks of any kind or promotion will be removed and the user banned. Final decision will be at the discretion of the Taipei Times.