From Hengchun to Kinmen, legacy of 823 remembered
A memorial was held yesterday in Kinmen County to mark the 56th anniversary of the start of an artillery battle between Taiwan and China.
Kinmen County Commissioner Li Wo-shi (李沃士) presented flowers and read a funeral oration at the ceremony.
Without the efforts of the fallen, Kinmen would not be enjoying the prosperity it now sees, Li said, honoring the sacrifice of those who gave their lives.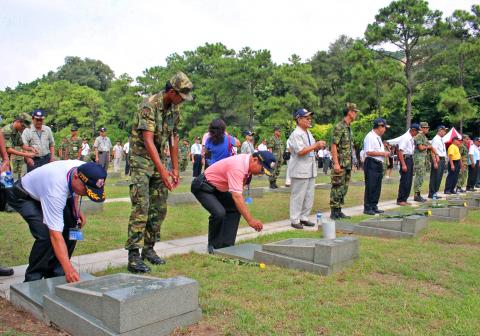 Officials, veterans, soldiers and residents mark the 56th anniversary of the 823 Artillery Bombardment of Kinmen in 1958 at a martyrs' shrine in Kinmen yesterday.
Photo: CNA
During the battle that began on Aug. 23, 1958, Chinese troops fired more than 470,000 shells at Kinmen over 44 days, killing and injuring thousands of soldiers and civilians.
About 200 Chinese soldiers were also killed during the exchange of fire that would later become known as the 823 Artillery Bombardment.
It is regarded as a significant battle that helped safeguard the Republic of China's government in Taiwan.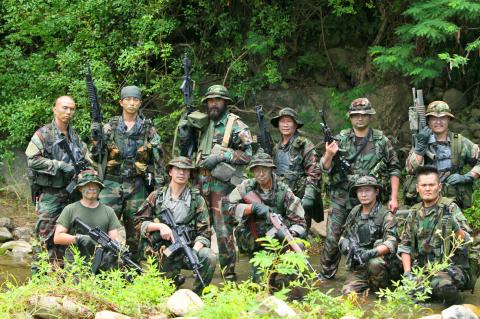 A group of military fans hold an "alternative military exercise" in Kenting, Pingtung County, yesterday to mark the 56th anniversary of the start of the 823 Artillery Bombardment of Kinmen in 1958.
Photo: Tsai Tsung-hsien, Taipei Times
The Chinese Nationalist Party (KMT)-led government relocated to Taiwan proper in 1949 after losing the civil war in China to communist forces. From 1949 until the late 1970s, Kinmen — just 10km from Xiamen Harbor in the southeastern Chinese province of Fujian — was the front line of intermittent conflict across the Taiwan Strait.
Meanwhile, in Pingtung County, hordes of amateur photographers were drawn to Jialeshuei Village (佳樂水) near Kenting (墾丁), as a group of military enthusiasts commemorated the 56th anniversary of the 823 Artillery Bombardment by holding a "drill" at the site.
The enthusiasts wore military gear and marched through thickets and across rivers. They also simulated amphibious assaults on the coast.
"The younger generation is only vaguely aware of the acts of valor carried out during the bombardment," a military enthusiast nicknamed Hsiao Chao (小趙) said. "We have spent long hours researching the topic and we know the victory was hard-won. We hoped to use our own methods to convey the bravery of the military to the public."
Another enthusiast, Wu Chia-chih (吳家誌), said the Hengchun Peninsula (恆春半島) offers a training base which could potentially host camps for people who are interested in experiencing military life, Wu added.
Comments will be moderated. Keep comments relevant to the article. Remarks containing abusive and obscene language, personal attacks of any kind or promotion will be removed and the user banned. Final decision will be at the discretion of the Taipei Times.