Comforting little boy wins hearts on the Web
A video recently posted on YouTube showing a little boy comforting an unhappy classmate on their first day of kindergarten has gone viral, attracting nearly 1 million views in just a matter of days.
The video (www.youtube.com/watch?v=PclvpXg8CBc) was taken at a kindergarten in Chiayi.
In it, a little boy, identified as Alston, comforts the girl, Anita, sitting next to him, who is on the verge of tears because she fears that her mother would not return for her.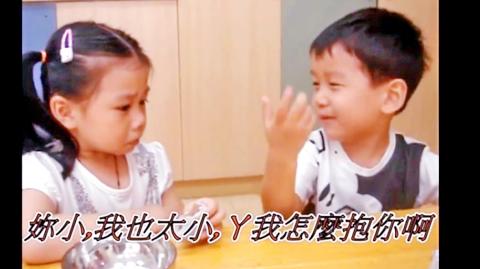 A screenshot from a video clip posted on the Internet shows a boy, identified as Alston, trying to console a worried classmate, Anita, on their first day at a kindergarten in Chiayi three years ago.
Photo: Taipei Times
After Alston reassures Anita that her mother would come "as soon as she wakes up from her nap," she asks him: "Would you give me a hug?"
Alston initially thinks the girl was asking for a teacher to hug her, but when he realizes Anita wants him to hug her, he declines by saying: "I think I am too young for that."
He then slaps the desk with his hand and says: "Don't worry — I will protect you."
He also suggests that she take a nap next to him during naptime.
The video appears to have touched the hearts of many viewers and was also picked up by other such news outlets as the British newspaper the Daily Mail, The Huffington Post and Buzzfeed.
"This is the cutest thing I've ever seen," one netizen wrote.
"I wish guys my age were as caring as this little guy," another netizen commented
According to the kindergarten, the video was taken three years ago during breakfast, after teachers asked the boys in the class to take care of their female classmates as a class activity to help the children get used to school life.
Alston and Anita are now first-graders in different elementary schools, the school added.
In response to the soaring popularity of the video clip, the kindergarten on Saturday last week posted an "extended cut" of the original on YouTube.
The extended version features previously unseen scenes such as Alston handing a napkin to Anita, whose face was wet with tears, stroking her head and asking her to look at the camera.
In the credits for the extended clip, the school said the video was made with the idea that it might help to instill a sense of optimism in society by showing "the kind, pure and adorable aspects of kids."
Comments will be moderated. Keep comments relevant to the article. Remarks containing abusive and obscene language, personal attacks of any kind or promotion will be removed and the user banned. Final decision will be at the discretion of the Taipei Times.