Protest greets Zhang at airport
WARM WELCOME: Twin rallies for and against the TAO head's visit greeted him as he arrived, with activists saying Taiwanese must decide their future
Demonstrators yesterday tussled with police and rival protesters at Taiwan Taoyuan International Airport as China's Taiwan Affairs Office (TAO) Minister Zhang Zhijun (張志軍) Zhang arrived for a four-day visit and met with Taiwan's Mainland Affairs Council (MAC) Minister Wang Yu-chi (王郁琦).
"No to the Wang-Zhang meeting, Taiwan's future is ours to decide," chanted nearly 100 protesters mobilized by groups including the Taiwan March, the Taiwan Association of University Professor and the Democracy Tautin.
At 2:40pm, the activists ran toward the entrance of Novotel Hotel at the airport in Taoyuan County where the meeting had started about 10 minutes earlier.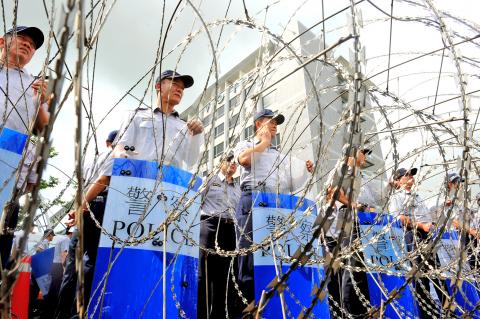 Police yesterday stand behind barricades placed around the Novotel Hotel at Taiwan Taoyuan International Airport in Taoyuan County, at which a meeting between Mainland Affairs Council Minister Wang Yu-chi and China's Taiwan Affairs Office Minister Zhang Zhijun took place.
Photo: Chang Chia-ming, Taipei Times
Police officers holding shields and batons quickly formed a human chain to keep out the protesters. However, the activists outnumbered the officers and did not hesitate to clash with them, managing to break down the human barricade.
When police formed a second line of defense to take its place, the protesters quickly overcame that too. The advancing group stopped right outside the hotel, which was blocked by barber-wired barricades and about 50m away from the building's entrance.
"Zhang said he is in Taiwan to listen to the voices of Taiwanese, but instead of accepting our invitation to meet, he's only meeting with officials and business leaders, and taking part in pre-arranged activities," Taiwan March cofounder and Sunflower movement leader Lin Fei-fan (林飛帆) said. "Who will he really hear during this visit?"
The protesters become upset when they heard reports that during their meeting, Wang had asked Zhang to respect Taiwanese's choices for their nation's future, but the Chinese official refused, instead saying that the future of Taiwan should be jointly decided by the people on both sides of the Taiwan Strait.
"The stance of Green Party Taiwan is very clear: The future of Taiwan should be decided by Taiwanese alone," said Wu Ming-hsuan (吳銘軒), who sits on the party's central executive committee.
Lin said that it is ridiculous for Zhang to claim that Chinese also have the right to decide Taiwan's future, saying: "Since when do the people of China have the right to decide anything?"
While many Chinese gathered at the airport to welcome Zhang, one of their compatriots, Zhu Yijie (朱依捷), joined the demonstration against the visit. Zhu said that her home in the Chinese city of Wuhan had been forcibly demolished to make way for railroad construction project and urged Zhang to come talk to her.
"If China is incapable of protecting the freedom and rights of its own citizens, how is it able to decide the future of the 23 million people in Taiwan?" she said. "Of course Taiwanese should have the right to decide their own country's future."
Chen Wei-ting (陳為廷), who like Lin helped found Taiwan March and lead the Sunflower movement, said that the protesters' main demand is that no cross-strait negotiations be held, nor agreements signed before legislation to monitor Taiwan-China negotiations is passed.
"Some people say we shouldn't take China as our enemy, but it's the only country in the world that has more than 1,000 missiles aimed at Taiwan, if we don't consider it an enemy, name the country that we should consider one instead," he said.
Aside from the activists gathered at the airport and the hotel, there were hundreds of other anti-Zhang protesters in the vicinity, notably Falun Gong practitioners and Taiwanese businesspeople who say they invested in China, but fell victim to officially sanctioned fraud or political prosecution.
Prior to Zhang's arrival, a crowd supporting his visit that consisted mostly of Chinese nationals living in Taiwan and pro-unification activists, including former gang leader Chang An-le (張安樂), clashed with a group of pro-independence demonstrators in the airport lobby.
Although the two crowds were separated by police, a man from the pro-unification crowd moved over to the rival side and pulled down a banner held by the pro-independence activists, sparking a brief clash that was quelled by the police.
Comments will be moderated. Keep comments relevant to the article. Remarks containing abusive and obscene language, personal attacks of any kind or promotion will be removed and the user banned. Final decision will be at the discretion of the Taipei Times.