Activists insist on state-to-state talks
TWO STATES BETTER: The activists said they were not against cross-strait exchanges, but that TAO head Zhang Zhijun should conduct his visit on a state-to-state basis
Pro-Taiwanese independence activists yesterday demanded that the Mainland Affairs Council vow that Minister Wang Yu-chi (王郁琦) will meet China's Taiwan Affairs Office (TAO) Director Zhang Zhijun (張志軍) on a state-to-state basis, rather than under the "one China" framework, a policy formulated by Beijing that the said is accepted by President Ma Ying-jeou's (馬英九) administration.
Ahead of Zhang's planned arrival today, dozens of students who participated in the Sunflower movement staged a protest outside the council building in Taipei yesterday along with Alliance of Referendum for Taiwan convener Tsay Ting-kuei (蔡丁貴) to voice their concerns that cross-strait political talks may take place during Zhang's visit.
Chanting: "No sovereignty, No [political] talks," the protesters demanded that Wang issue a declaration when he meets with his Chinese counterpart this afternoon that clearly states: "Taiwan is a sovereign, independent nation."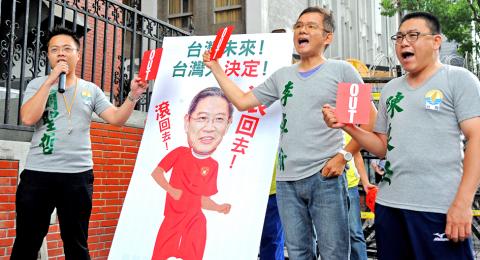 Taiwan Solidarity Union candidates for the Taipei City Council yesterday hold up red cards next to a caricature of China's Taiwan Affairs Office Director Zhang Zhijun wearing a soccer uniform as they call for him to be "sent off" from Taiwan.
Photo: Liu Hsin-de, Taipei Times
The activists said they do not oppose the idea of holding cross-strait negotiations on economic or political issues, they are only against such talks being held under the "one China" framework.
"Before Wang is able to make the government's position on Taiwan's independence and sovereignty clear, he is in no position to meet with Zhang," National Taiwan University student Lin Yu-lun (林于倫) said.
Lin said that any negotiations the government engages in with any other country, including China, should be based on a state-to-state relationship because Taiwan is an independent nation.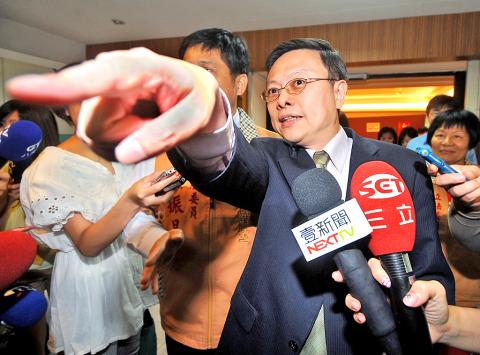 Mainland Affairs Council Minister Wang Yu-chi meets with Taiwan Solidarity Union legislators in Taipei yesterday to discuss the protests they are planning to hold when China's Taiwan Affairs Office Director Zhang Zhijun visits this week.
Photo: Fang Pin-chao, Taipei Times
National Taipei University student Lai Pin-yu (賴品妤) urged Wang to set a precondition for his meeting with Zhang stipulating that China first improve its human rights situation.
During Zhang's four-day trip, he is scheduled to visit Aborigines in New Taipei City's Wulai District (烏來) and residents of the Siadin Village (小林村) in Greater Kaohsiung devastated by Typhoon Morakot, which Lai said was part of a bid to create an image that he is "man of the people."
"However, we should first look at how Beijing has treated Tibetans," she said.
At the protest, the activists' tried to give a letter of appeal to the council, but it did not send council Chief Secretary Jeff Yang (楊家駿) to receive until the demonstrators tried to burst into the complex.
The activists tried to breach the complex after being frustrated when the mistook Wu Chia-hsin (吳家興), director of the council's Ethics Department, for a low-ranking official when he came down to listen to their appeal.
When Yang appeared, the protesters peppered him with questions about Taiwanese sovereignty, but he deigned to make any promises, saying only that he would pass the letter of appeal on to Wang.
Meanwhile, Democratic Progress Party (DPP) Department of China Affairs director Chao Tien-lin (趙天麟) yesterday said the party viewed at Zhang's visit as positive move and that it has no plans to mobilize any protest.
The party issued a three-point statement on the trip which said that it encourages cross-strait interactions on the conditions that Taiwan's sovereignty is respected, and that fairness and democracy are upheld.
The statement's first point is that any political dealings that take place during these interactions must be done transparently and the agendas of all relevant meetings made public.
Second, the nation's future should be decided by its 23 million citizens and no one else and Ma must not ignore that fact.
Third, since Zhang hopes to learn about Taiwan and communicate with Taiwanese of all social ranks, especially average citizens, the DPP said it hoped he would "listen to them with his heart."
Comments will be moderated. Keep comments relevant to the article. Remarks containing abusive and obscene language, personal attacks of any kind or promotion will be removed and the user banned. Final decision will be at the discretion of the Taipei Times.