Japanese designer takes top prize of US$500,000 for Tang medal designs
STRIKING GOLD: Naoto Fukasawa defeated nine competitors from Europe, Taiwan, Hong Kong and Japan, who each submitted designs for four medals
Renowned Japanese industrial designer Naoto Fukasawa took the US$500,000 top prize yesterday in a competition to design medals for winners of the Tang Prize (唐獎) — an international award established by Taiwanese entrepreneur Samuel Yin (尹衍樑) for global leaders in the fields of sustainable development, biopharmaceutical science, Sinology and the rule of law. The prizes have a total fund of NT$3 billion (US$ 1 million).
The winner of the International Invitational Tang Prize Medal Design Competition was announced in Taipei at an award ceremony attended by the 10 of the finalists, all of whom are prominent names in international design.
The nine other finalists receive US$50,000 each.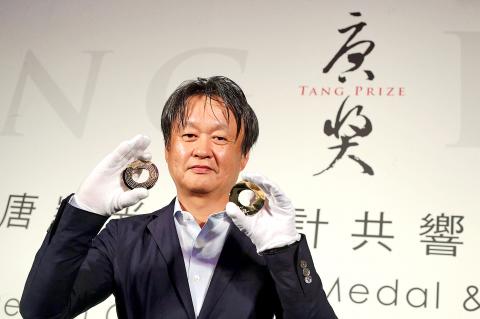 Japanese designer Naoto Fukasawa holds up a sample of one of the models that won him the US$500,000 competition to design the Tang Prize in Taipei yesterday.
Photo: CNA
Fukasawa, a designer for Japanese retailer Muji and many other international brands, has been named as one of the world's most influential designers by Bloomberg Businessweek magazine and has won several other prestigious awards, including the US' International Design Excellence Award and Germany's iF design award.
He is known for his simple and intuitive industrial designs. He believes a good design should blend naturally with a user's behavior, without the user having to think about it, a design philosophy he has named "Without Thought."
One of his most famous pieces is a wall-mounted CD player he designed for Muji in the 1990s, which became one of Japan's most iconic industrial designs of that time.
His winning designs for the Tang Prize feature medals in the shape of spiral curves. Descriptions of the four categories of the Tang Prize — are carved into the back of each medal in circles along the spiral structure.
The other finalists were Kenji Ekuan from Japan, GK Design Group chairman and former International Council of Societies of Industrial Design president Gunter Wermekes, a German goldsmith and designer who designed the new Red Dot Trophy; Australian graphic designer Harry Williamson; and Kan Tai-keung (靳埭強), dubbed Hong Kong's "father of graphic design."
The other finalists were Taiwanese designer Chen Jun-liang (陳俊良), known for his use of Chinese calligraphy and Eastern imagery; Dutch graphic designer Irma Boom, who specializes in book design; Italian jewelry designer Massimo Zucchi; British graphic and coin designer Matthew Dent; and British jewelry artist Lin Cheung, who designed the medals for the London 2012 Paralympics.
The Tang Prize Foundation and Taiwan Design Center jointly organized the International Invitational Tang Prize Medal Design Competition, inviting 25 international design organizations to nominate designers.
A total of 61 designers from 15 countries were nominated.
Ten designers were selected by an international panel of judges in February to participate in the final round.
For the finals, each designer presented a medal design for each of the four categories of the Tang Prize. The winning medals will be manufactured by the Central Mint from pure gold and will have a diameter of 6.6cm.
The Tang Prize was established to honor top international researchers in the four categories.
The first laureates will be announced on June 18. Up to three winners will claim a cash prize of NT$50 million for each category.
Comments will be moderated. Keep comments relevant to the article. Remarks containing abusive and obscene language, personal attacks of any kind or promotion will be removed and the user banned. Final decision will be at the discretion of the Taipei Times.