Taiwan-US ties stronger than ever: AIT chairman
US-Taiwan relations are stronger than ever, American Institute in Taiwan (AIT) Chairman Raymond Burghardt told a Washington conference on Monday.
"In some respects relations are even stronger than before 1979 when Washington broke official diplomatic ties with the nation," he said.
Delivering a keynote address at the conference organized by the Center for Strategic and International Studies and the Brookings Institution, Burghardt said US defensive support had given Taiwan the confidence it needed to engage with Beijing.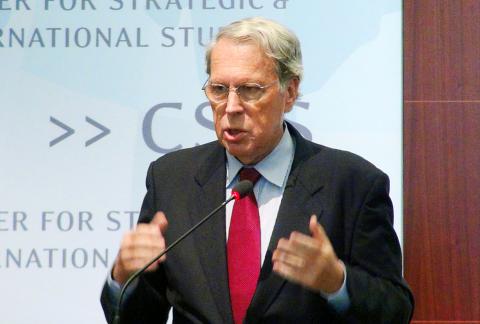 American Institute in Taiwan Chairman Raymond Burghardt addresses a conference on the Taiwan Relations Act in Washington on Monday.
Photo: CNA
"The result has been the impressive string of agreements on trade and transportation, law enforcement cooperation and other cross-strait ties concluded in the past six years," he said.
Burghardt told the conference — titled "35 Years Later: Assessing the Effectiveness of the Taiwan Relations Act (TRA)" — that President Ma Ying-jeou (馬英九) had said in private conversation that US support was directly connected to Taipei's ability to negotiate with Beijing.
"As China's military spending grows, as China continues to carry out military deployments and exercises that are aimed at Taiwan, it is more important than ever for Taiwan to invest sufficiently in a professional military force to deter potential attempts at coercion or aggression," he said.
Burghardt said that Washington's security relations with Taiwan were about much more than arms sales.
"The US engages in a wide range of consultations and exchanges in order to assist Taiwan's armed forces as they seek to maintain, to train and equip an effective self-defense capability," he said.
US defense support for Taiwan was based only on assessment made in close consultation with Taipei.
"We have not, and we will not, hold prior consultations with Beijing about arms sales to Taiwan," he told the conference.
Burghardt said the US would stand by the commitments made in the TRA 35 years ago.
Asked about recent demonstrations by members of the Sunflower movement, he said they seemed to reflect "a wariness" about the pace of integration with China and did not reflect trade protectionist sentiment.
"They seemed to be all about relations with the mainland, how those relations were being handled and fears about where it was all going," Burghardt said.
He said that together with former and current Taiwanese officials, he had discussed an article published earlier this year by Chicago professor John Mearsheimer.
The article suggested the US would eventually "say goodbye" to Taiwan because it would no longer be capable of defending it.
"Islands have certain defensive advantages — whether it's Japan or Britain or Taiwan — and I am not sure Mearsheimer took that fully into consideration," he said.
"We have in-depth discussions with Taiwan about Taiwan's defensive needs," Burghardt said.
"And if you look at what Taiwan has done, developing its own indigenous defense, as well as what it has bought, you see just the kinds of items that make sense in terms of dealing with the kind of threats that Mearsheimer is talking about — anti-ship missiles, fast patrol boats and great capability to handle naval mines," he said.
"Taiwan is good at this stuff," Burghardt said.
He said there were only two things that mattered in terms of Taiwan's defense: deterrence and survivability.
There had to be enough deterrence for Beijing to know that it would get a "bloody nose" if it attacked Taiwan, Burghardt said.
On the survivability front, Taiwan had to be able to survive an attack long enough for external factors "to be brought to bear to resolve the conflict," he said.
Comments will be moderated. Keep comments relevant to the article. Remarks containing abusive and obscene language, personal attacks of any kind or promotion will be removed and the user banned. Final decision will be at the discretion of the Taipei Times.