Students rally for rights of hens
More than a dozen students from Chung Yuan Christian University, dressed in yellow chicken costumes and accompanied by animal welfare activists, rallied in front of the Council of Agriculture yesterday morning to call for healthier living environments for egg-producing hens at chicken farms.
Three students dressed as chickens were put in a small, uncomfortable cage to mimic egg-laying hens being raised in tiny battery cages, as they called for the council to set explicit regulations and policies for gradually phasing out what critics call an inhumane practice.
"Free the egg-laying hens" and "They are living creatures, not egg-producing machines," the students shouted, while holding pictures of hens raised by four different methods — in battery cages, in enriched cages, in barns and free-range — to show the difference in the quality of their living environments.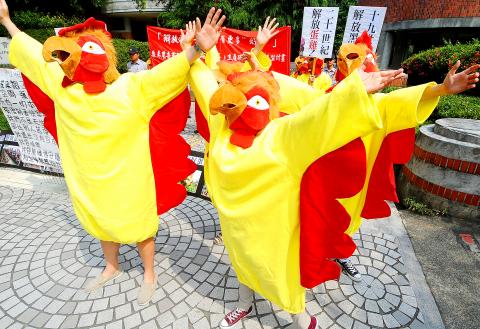 Representatives of the Environment and Animal Society of Taiwan and university students dressed in chicken suits yesterday stage a protest at the Council of Agriculture, urging the council to pay attention to the abuse of laying hens.
Photo: Liao Chen-huei, Taipei Times
Environment and Animal Society of Taiwan (台灣動物社會研究會) director Chen Yu-min (陳玉敏) said the council set minimum standards for three more humane egg production methods in January, but they are still too passive and ineffective.
The EU totally banned raising hens in battery cages in 2012, but in Taiwan, there are only 18 egg farms among a total of 1,716 — or about 1 percent — that apply the more hen-friendly methods, she added.
"Happy hens produce good-quality eggs," Chen said, adding that hens kept in battery cages cannot move or stretch their wings, sometimes have their beaks cut off to prevent them from pecking others and are often fed several types of antibiotics to fight diseases, because hens kept in such an unnatural environment have weaker immune systems.
Chen said that the council should set explicit policies on phasing out inhumane methods, such as banning the establishment of new battery-cage egg farms, only providing subsidies to egg farms that apply more humane hen-raising methods, and setting up annual goals for achieving a total ban on battery cages.
In response, the council's Animal Husbandry Department deputy director Chu Ching-cheng (朱慶誠) said that "about 6.8 billion eggs are produced by about 1,700 egg farms in Taiwan every year, representing a market value of more than NT$19 billion [US$628.9 million], so it has actually formed an industrial chain and any changes in policy will affect many people."
It took the EU more than 20 years to reach the goal of a total ban on battery cages, so more time will be needed for the government to promote and the farmers to adjust to new methods, he said.
Consumers' level of acceptance is also very important, because egg prices may increase to reflect the higher production costs, he added.
Chu said the council will provide technical assistance and certification to farmers that are willing to change to more humane hen-raising methods, and also continue to promote these methods, but favorable results cannot be achieved in a short time.
Comments will be moderated. Keep comments relevant to the article. Remarks containing abusive and obscene language, personal attacks of any kind or promotion will be removed and the user banned. Final decision will be at the discretion of the Taipei Times.