Kaohsiung hostel wins top honor
A five-story hostel in Greater Kaohsiung has beaten its northern counterparts to win this year's Hoscars award for the best hostel in Taiwan, said awards organizer Hostelworld.com, a budget travel Web site.
Bike Kaohsiung Hostel on Lisin Road in Zuoying District (左營) is a 26-year-old renovated townhouse run by 32-year-old Paul.
Having spent nights in various hostels in 20 countries, Paul decided to open up his own hostel after graduating from National Sun Yat-Sen University's Graduate Institute of Political Science.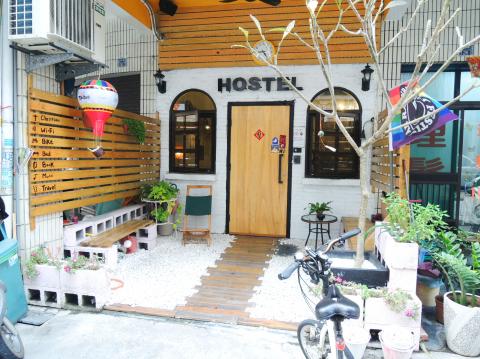 A bicycle stands near the entrance of the Bike Kaohsiung Hostel in Greater Kaohsiung's Zuoying District on Thursday last week. The hostel won Hostelworld.com's Hoscars award this year for best hostel in Taiwan.
Photo: Ko You-hao, Taipei Times
Paul rented the building and completely overhauled the interior on his own. He named the hostel "Bike" because he has always liked the bicycle-friendly environment of Greater Kaohsiung.
Because of Paul's hospitality, the hostel quickly became popular among backpackers at home and overseas since he opened it about two years ago.
The budget travel site's evaluation of competing hostels is mainly based on the reviews of travelers who have stayed at the hostels. It also occasionally sends specialists to assess the hostels personally to ensure that each winner deserves the accolade.
The "best hostel" award had usually been awarded to hostels in northern Taiwan, which made Bike Kaohsiung Hostel's win this year all the more surprising.
"Running a youth hostel is actually about people-to-people diplomacy," Paul said, citing incidents in which he volunteered to serve as a tour guide to a Russian man who did not speak English and helped a US woman who lost consciousness in the middle of the night to seek medical care.
"I rushed her to a nearby hospital and spent three hours trying to get hold of her husband in the US," Paul said.
Paul said about 64 percent of those who stay in his hostel are foreign tourists, including from as far away as Libya, Burkina Faso, Ghana and Iceland.
"My hostel is a pied-a-terre for world travelers. It is also a place where their dreams begin," Paul said.
The number of youth hostels in Greater Kaohsiung has increased over the past few years thanks to the city government's efforts to boost tourism.
Currently, there are about 20 hostels in the city, where weary tourists can have a good night's sleep for just a few hundred New Taiwan dollars.
Anchoredoff Hostel is another popular youth hostel in Greater Kaohsiung.
It is operated by two 30-somethings who say they believe that Greater Kaohsiung is the best city for a short retreat because it offers the perfect combination of natural beauty and modern convenience.
The hostel has three rooms with eight beds each.
Other well-received youth hostels in Greater Kaohsiung include the BackHome Hostel, the Takaobay Hostel, the Kaohsiung Backpackers Hostel and the Backpacker 41.
However, in light of a recent surge in the number of unregistered youth hostels in the city, the Greater Kaohsiung Tourism Bureau advises tourists to also take into account security and living conditions when looking for a place to spend the night.
Comments will be moderated. Keep comments relevant to the article. Remarks containing abusive and obscene language, personal attacks of any kind or promotion will be removed and the user banned. Final decision will be at the discretion of the Taipei Times.