Artist's ballet dancers a big hit
TAKES ONE TO KNOW: Keith Lin studied ballet as a teen. Drawn under the alias 'Ballet Monsters,' his cartoons of dancers have been a Facebook hit and are now in a book
A Taiwanese with years of ballet experience has penned a series of cartoons that gives readers a humorous glimpse into the life of ballet dancers.
Keith Lin (林秉豪), who draws under the pseudonym Ballet Monsters (芭蕾群陰), has created a cartoon collection featuring about 250 drawings of a female dancer going about her daily life.
The collection has now been published in a book, titled Secret Diary of a Ballerina (芭蕾女孩的秘密日記).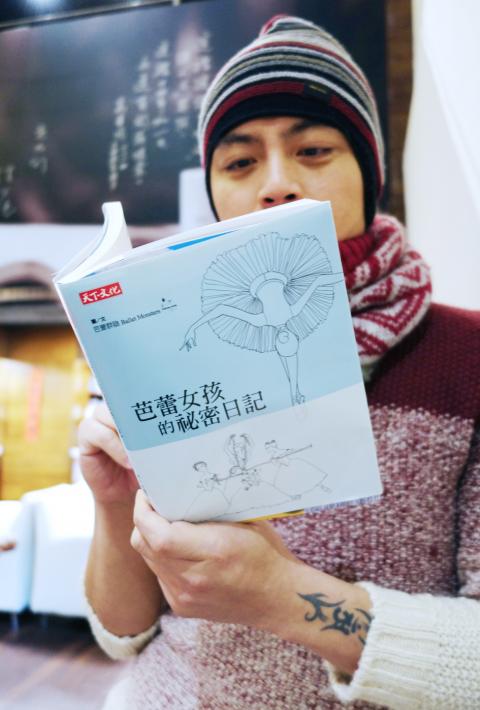 Artist Keith Lin, who draws under the pseudonym Ballet Monsters, reads a copy of his new book, Secret Diary of a Ballerina, in Taipei on Monday last week.
Photo: Chen Yi-ching, Taipei Times
The book sold out within a day of its release on Wednesday last week.
Ballet Monsters enjoys considerable fame on the Internet, having run a Facebook page over the past year, where his often sarcastic drawings have attracted nearly 23,000 fans and been "shared" by the New York City Ballet and the San Francisco Ballet.
In Ballet Monsters' works, the dancer is portrayed as a mouthless slender young woman who is prone to do a leg extension whenever and wherever she sees fit.
She will lift her leg up into the air and use her toes to press floor buttons in an elevator when her hands are full of shopping bags, as depicted in a drawing titled "On My Own" (靠自己), which has been "liked" about 15,000 times and "shared" by 4,000 netizens.
Another popular sketch is called "The Dinner Table of a Fairy" (仙女的餐桌), where the dancer only orders a piece of tofu at a restaurant, while her friends gobble down their food.
"It is based on my personal experience. One time I went to dinner with my friends who are ballet dancers. One of them only ate 10 grains of rice before telling me they were full... Sometimes I think they are aliens," the artist said.
"For ballet dancers, everywhere is their stage, which is why they never go anywhere without their 'attitude,'" he said.
"They always keep their backs straight even when they are drinking coffee. They never squat down to pick up things that fall on the floor. They do splits on the floor even when they are reading a book," he said.
Lin started studying ballet during high school and often drew on cards what he observed of his classmates and gave them to his friends as gifts.
However, he gave up on ballet after he entered college, saying: "It was too exhausting."
Some netizens have drawn a parallel between Ballet Monsters and the famous Japanese cartoon character Hello Kitty, which also has no mouth, but Lin said ballet dancers "speak with their bodies rather than their mouths."
"It may appear as if I am making fun of ballet dancers in my works, but what I am actually trying to do is let more people see the hardship they have to endure to be able to give their best performance," the artist said.
Comments will be moderated. Keep comments relevant to the article. Remarks containing abusive and obscene language, personal attacks of any kind or promotion will be removed and the user banned. Final decision will be at the discretion of the Taipei Times.