228-67 YEARS ON: Teachers forgo food in protest over curriculum
A group of teachers from across the country yesterday began a hunger strike outside the Ministry of Education building in Taipei, accusing the ministry of having political motivations behind its recent adjustment of curriculum guidelines.
"We are gathered here today [yesterday], because Feb. 28 is a symbolic day. It's a day that is marked with the quest for social justice and civil liberties for Taiwanese," said Wang Hsi (王希), spokesman of the Alliance of Awakened Citizens, which joined the teachers in their action.
"Injustice still exists today, such as the government's political intervention in the new education curriculum, and we're glad that a group of teachers are here, telling the government that they will not accept this," he said.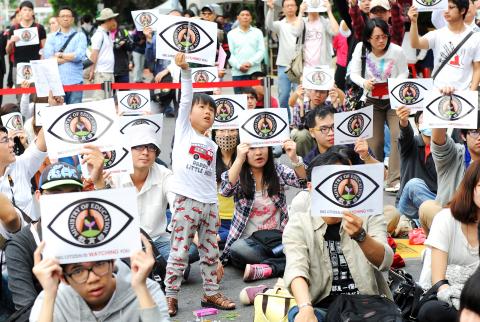 People hold up signs outside the Ministry of Education building in Taipei yesterday in protest over changes to school curriculum guidelines.
Photo: Lo Pei-de, Taipei Times
The recently announced curriculum guidelines have been described by many academics and teachers as changing the current Taiwan-oriented approach to history into a Sinocentric approach, as well as finding excuses for the Chinese Nationalist Party's (KMT) authoritarian rule in civics education.
"A committee within the ministry began talking about curriculum change in December, and finalized the plan and the curriculum guidelines by January, without even asking academics who are opposed to it for their opinions," said Nieh Sung-ling (聶松齡), a civics teacher from Kaohsiung Municipal Wenshan Senior High School.
"The ministry claims that the committee members have fully discussed all opinions, but how is that possible? If, as the ministry says, it consulted teachers during the process, can it give us just 10 names of the teachers they consulted?" Nieh asked.
Hsu Shih-jung (徐世榮), a professor at National Chengchi University's Department of Land Economics, said that many Cabinet members have stepped down recently, but Minister of Education Chiang Wei-ling (蔣偉寧) should also have resigned.
"Taiwan is a nation of immigrants, people moved here at different times and so it is natural that different groups may have different views on history," Hsu said. "As a democracy, we should try to respect people instead of trying to wipe out all other views with a 'Greater China' ideology."
A civics teacher from National Tainan Girls' High School, Yang Su-fang (楊素芳), who was among the people in the hunger strike, showed a copy of the new curriculum released by the ministry and compared it with the current one.
"Currently, the textbook is critical to the government's rule from the late 1940s to the 1980s, calling it the 'White Terror Period," Yang said. "But in the new one, it would be explained as a necessary evil, that the authoritarian rule was something the government did not want to carry out at the time, but was obliged to."
Yang added that this is not what civics education should do, "because the purpose of civics education is teaching students about the values of human rights, not finding excuses for human rights violations."
"We civics teachers standing up to injustice is also part of that education," Yang said.
Comments will be moderated. Keep comments relevant to the article. Remarks containing abusive and obscene language, personal attacks of any kind or promotion will be removed and the user banned. Final decision will be at the discretion of the Taipei Times.