'Homeless' hermit crabs hard focus of students' campaign
Three college students have launched a campaign to find shells for homeless hermit crabs, calling on the public to protect the crabs by upholding a principle of "three noes" — no picking up shells on the beach, no keeping hermit crabs as pets and no buying or selling the animal.
Su Pin-yun (蘇品勻), Huang Li (黃莉) and Lin Wei (林慰) are seniors at National Chiao Tung University's Department of Communication and Technology.
The students have jointly set up five shell-collecting stations nationwide to manage donated shells, as part of their effort to solve what they call a long-term "housing crisis" faced by the crustacean.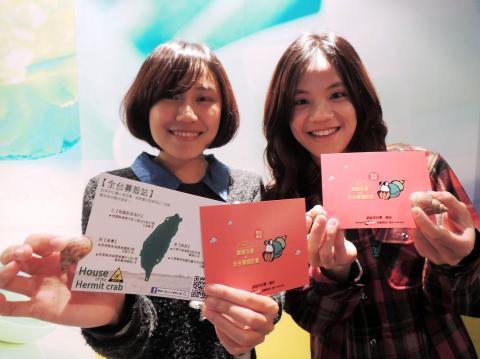 National Chiao Tung University students Huang Li, left, and Su Pin-yun promote their campaign to find shells for hermit crabs in Hsinchu City on Monday last week.
Photo: Hung Mei-hsiu, Taipei Times
Su and Huang said they decided to launch the campaign after they heard of the fast-decreasing number of shells on Taiwan's beaches, which has deprived hermit crabs of a chance to grow properly and live.
"We want to contribute to society … and hope that the campaign can galvanize a collective effort to help these homeless hard-shelled animals find new homes," the two college students said.
The trio said the most suitable homes for hermit crabs are the shells of Taiwanese babylon, urging diners at restaurants to preserve their shells and deliver them to the shell stations.
Su said their Facebook page, "Crab your attention, join the nationwide shell-collecting campaign" (蟹謝注意之全台募殼計畫), had prompted like-minded people from Taoyuan, Pingtung and Taitung counties to set up their own shell-collecting stations.
"With the assistance of a bed-and-breakfast in Taitung, we have collected quite a large number of shells so far," Huang said.
She said if the campaign went well, they plan to organize a "shell-returning" event in Greater Taitung and Pingtung in July to provide homeless, wandering hermit crabs a warm home.
Comments will be moderated. Keep comments relevant to the article. Remarks containing abusive and obscene language, personal attacks of any kind or promotion will be removed and the user banned. Final decision will be at the discretion of the Taipei Times.