Hau Lung-bin draws flak over comments about Ma
Taipei Mayor Hau Lung-bin (郝龍斌) called on President Ma Ying-jeou (馬英九) to step down as Chinese Nationalist Party (KMT) chairman if the party fares poorly in the year-end elections, prompting a KMT spokesman to accuse Hau of defeatism.
Attending a press conference on the adjustment of temporary workers' wages, Hau yesterday said: "If we lose the seven-in-one elections at the end of this year, Ma should resign as party chairman to take responsibility for the result."
"This is in the spirit of 'party politics' and 'responsible politics.' In any election, parties must go all out to fight for and secure victory. If defeated, then the party chairman should step down to shoulder the responsibility," Hau said.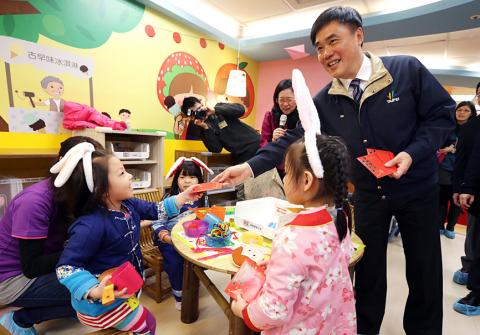 Taipei Mayor Hau Lung-bin gives children red envelopes yesterday at the opening of a municipal nursery on the second floor of the Gangqian MRT Station in the city's Neihu District.
Photo: CNA
He added his words should not be taken to mean he is advocating a "palace coup."
For the seven-in-one elections, to be held on Nov. 29, the Taipei mayor said several results would constitute a defeat, such as the KMT losing both Taipei and Greater Taichung, or a significant reduction in the number of cities and counties governed by the party.
In response, KMT spokesman Yang Wei-chung (楊偉中) said: "This is the time for our party to come together in unity as one. We must not allow defeatism to affect our morale."
"As long as everybody in the KMT is united in working toward our common goals, we can win good results in the upcoming elections," he added.
Yang said that all signs indicate the economy will be better this year than last year.
When asked about the remarks, New Taipei City (新北市) Mayor Eric Chu (朱立倫) yesterday said that Hau was only encouraging Ma.
"Hau's intention was to pull people together to work hard and improve the economy," he said.
Earlier, Hau emphasized his slogan "No win in 2014, then no win in 2016," referring to this year's seven-in-one elections and the presidential election, to be held in 2016.
"In the next 10 months, if the KMT government cannot turn things around and improve the economy, then it will be quite detrimental to the pan-blue camp's election campaign… If we lose the elections, then party chairman Ma must take responsibility and resign his position," he said in an interview with the Chinese-language China Times newspaper on Monday.
At the press conference yesterday, Hau announced that the Taipei City Government would raise its monthly minimum wage to NT$22,639, which comes to an hourly rate of NT$133.
It is a wage hike of 18.86 percent over the current rate, and will be effective on May 1, to benefit about 4,000 temporary workers employed by the Taipei City Government.
Explaining the hike, Hau said the minimum monthly per capita cost of living averaged NT$10,244, according to latest statistics from the Ministry of the Interior, for 2012.
"In comparison, the minimum monthly per capita cost of living for Taipei was raised to NT$20,261 last year. This indicates that it is more difficult for workers to live in Taipei, so there is a need to raise the basic wage," he said.
According to officials, there are currently just under 4,000 workers at the Taipei City Government under the basic wage structure.
Most of the groups benefiting from the wage hike are temporary workers in jobs at the Taipei City Government's Department of Environmental Protection and Department of Social Welfare, along with other temporary workers, relief workers and part-time students.
Comments will be moderated. Keep comments relevant to the article. Remarks containing abusive and obscene language, personal attacks of any kind or promotion will be removed and the user banned. Final decision will be at the discretion of the Taipei Times.