Policy debate can harm flexibility: Tsai
BE CAREFUL: The former Democratic Progressive Party chairperson said a debate over the sensitive issue of the party's China policy could eliminate its room for maneuver
Former Democratic Progressive Party (DPP) chairperson Tsai Ing-wen (蔡英文) was reserved yesterday about a proposed grand debate on the party's China policy, saying that a debate could end up taking away flexibility in handling cross-strait affairs if it was not well-planned.
Speaking on the sidelines of a book launch held by her foundation, Tsai responded to a media inquiry about DPP Chairman Su Tseng-chang's (蘇貞昌) proposal to hold such a debate, which was initiated after the party's recently completed review of its China policy was criticized by many as "unimpressive" and "conservative."
"The [DPP's] cross-strait policy has always been a sensitive issue of diverse opinions. Part of it is suitable for a debate and part of it is not. A debate could eventually eliminate the DPP's room for maneuver unless it is well-planned and well-crafted," Tsai said.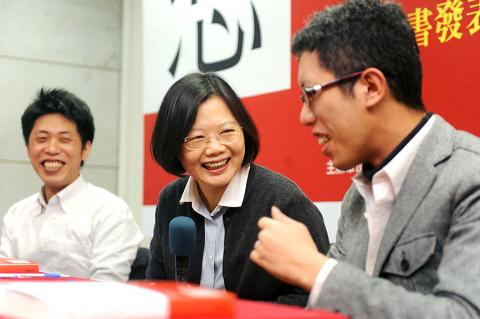 Former Democratic Progressive Party chairperson Tsai Ing-wen, center, attends a book launch in Taipei yesterday.
Photo: Liao Chen-huei, Taipei Times
The former presidential candidate said the DPP's China policy would have to find a balance between its core values and the political reality and "it takes time" to accomplish the feat.
The DPP would have to engage the public in communication as well as with Beijing during the process, she added.
After the DPP's loss in the presidential election in 2012, several party members called for a debate, which would have been the second "grand debate" on the party's China policy after the one held in 1998 when Hsu Hsin-liang (許信良) was chairman.
Several DPP lawmakers, including Gao Jyh-peng (高志鵬), Tuan Yi-kang (段宜康), Chao Tien-lin (趙天麟), Hsiao Bi-khim (蕭美琴), Lee Chun-yi (李俊俋) and Pasuya Yao (姚文智) supported the proposal.
Tsai spoke to reporters on the sidelines of a book-launch to introduce Thinking Taiwan — a collection of 82 articles published on thinkingtaiwan.com, an online forum.
The forum, established in August 2012 under Tsai's Thinking Taiwan Foundation, aims to promote a "New Thought movement" among the public following her loss in the 2012 election, Tsai said, adding that it was not a politically motivated move.
Since its establishment, the Web site has published more than 1,600 articles by more than 500 authors and has on average about 200,000 page views per week, according to the foundation.
The articles, on a wide range of topics, have been thought-provoking as the discussion had gone beyond the conventional "election politics" and market economy beliefs, Tsai said.
She added that it has been a pleasant surprise that 80 percent of the Web site's readership comes from the under-40 age group and almost half of the authors were born after 1980.
"That eased some people's concern that young people today know how to gather and process information, but do not know how to think," Tsai said.
Tsai said she was confident about the emerging civil society in Taiwan and said that political parties would have to reconsider their roles and make adjustments accordingly.
Comments will be moderated. Keep comments relevant to the article. Remarks containing abusive and obscene language, personal attacks of any kind or promotion will be removed and the user banned. Final decision will be at the discretion of the Taipei Times.