FEATURE: 'Bookstore of Taiwan' fights China headwinds
ALL OR NOTHING: Wu Cheng-san was inspired to open Taiuan-e-tiam by a vendor who sold banned books at protests. He says the new service pact threatens Taiwan's culture
Images of people flocking to the Taiuan-e-tiam (台灣e店) bookstore to attend independent Taipei mayor hopeful Ko Wen-je's (柯文哲) book launch on Nov. 17 last year recalled the store's heyday, when it built a reputation as the home of the nation's most Taiwan-themed books.
Despite being located in an alley near National Taiwan University that is flanked by dozens of bookshops, Taiuan-e-tiam, which literally means "the store of Taiwan" in Hoklo (also known as Taiwanese), has stood out from its competitors because of its longstanding insistence that only books that tell the stories of the country are worth selling.
Although the name of the bookstore is no stranger to most people well-versed in Taiwanese history or infatuated with the nation's culture, one cannot say the same for its 72-year-old owner, Wu Cheng-san (吳成三).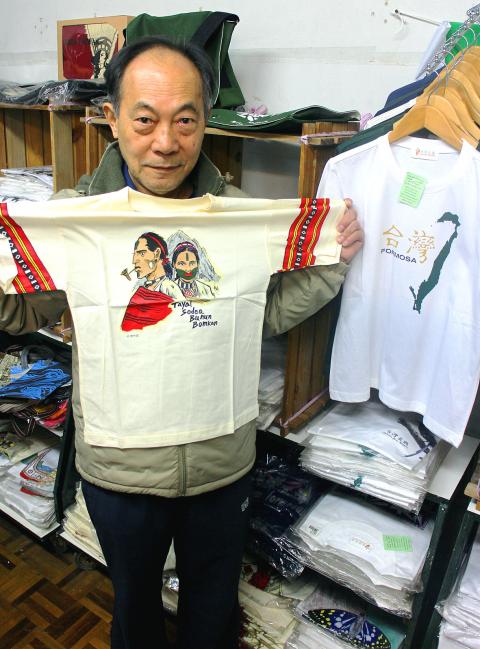 Wu Cheng-san, owner of the Taiuan-e-tiam bookstore near National Taiwan University, holds one the store's most popular T-shirts on Dec. 27 last year.
Photo: Liu Yan-fu, Taipei Times
"My main source of happiness and sense of achievement is seeing readers being able to find what they have been searching for in Taiuan-e-tiam and bring them home," Wu said, with passion in his eyes.
Hailing from Greater Tainan, Wu said the bookshop has helped him find a new purpose in life after his insistence on introducing Hoklo dictionaries and books featuring Taiwan's Aborigines and ecology brought him close to a number of like-minded people.
In an effort to bring his store closer to the current social movements, Wu also puts anti-nuclear flags and school bags depicting the campaign against forced government land seizures on the shelves.
Wu said his efforts to create an entirely Taiwanese bookstore are motivated by his belief that "the power of learning is enormous."
"The five years I spent on pursuing a doctoral degree in Columbia University in 1969 liberalized my mind completely. At that time, my school was not only the heart of an anti-Vietnam War campaign in the eastern US, it also spoke out against [former US president] Richard Nixon's plan to launch attacks on Laos," Wu said.
However, it was an incident in which a student warned Wu against reading US writer George Kerr's Formosa Betrayed on campus that made him see how Taiwan had run counter to global values and how desperately it needed to rethink its position.
Published in 1965, Formosa Betrayed centers on Kerr's first-hand observations of the various events occurred in Taiwan before and after the 228 Incident in 1947, when he was serving as a US foreign officer in Taipei.
The 228 Incident refers to the crackdown launched by the then-Chinese Nationalist Party (KMT) regime against civilian demonstrations in 1947, following an incident in Taipei on Feb. 27 of that year.
Martial law was imposed later that year and not lifted until 1987. Tens of thousands of people were killed during that era, which became known as the White Terror era, and an estimated 140,000 to 200,000 were imprisoned.
Looking back, Wu said there was a "peculiar phenomenon" during the 1990s, in which a mobile stall vendor was seen selling banned books featuring democratic movements every time a new social movement was launched.
"I thought to myself what a pity it would be if there was no one bringing these books together in one place, so I started looking for them in various Aboriginal tribes and bookstores across the country," Wu said.
During the search, Wu was frustrated to find that the nation's Aboriginal cultures had long been disregarded by the public and that books about Taiwan were too scattered to be useful for cultural researchers.
"Then it occurred to me that maybe opening a bookstore featuring Taiwan-themed books could be the answer to both problems, because it could serve as a comprehensive platform where people interested in learning about Taiwanese cultures could find useful and mind-enlightening materials," Wu said.
With the assistance of Yeh Chu-lan (葉菊蘭), the widow of democracy movement pioneer Deng Nan-jung (鄭南榕), Taiuan-e-tiam opened in March 1993.
A year later, Wu decided to resign from his teaching post at a public university to dedicate more time to the bookstore's operation.
The bookshop later became a magnet for culture enthusiasts after Wu joined hands with folk singer Chen Ming-chang (陳明章) to produce an album featuring traditional songs of the Bunun tribe (布農) in 1999, and collaborated with comic book legend Chiu Row-long (邱若龍) in designing a T-shirt depicting Atayal (泰雅) customs.
It was also frequented by college professors at home and abroad until the nation was battered by the outbreak of SARS in 2003.
"The outbreak caused a public spending freeze that reduced the number of customers to the bookstore to only a few dozen a day," Wu said.
Wu said the bookstore's business took another dip after the KMT returned to power in 2008, citing the administration of President Ma Ying-jeou's (馬英九) hasty shift toward China that has made the local publishing industry more "China-oriented."
"Because of the industrial change, books published in recent years are no longer inspirational enough to readers, leading to a dramatic decline in sales, Wu said.
The store's average daily turnover is only about NT$8,000, which is not enough to cover its overhead, Wu added.
Wu also voiced concerns over the controversial cross-strait service trade agreement, which, if ratified, is set to open to Chinese investment 64 Taiwanese industries, including publishing.
"The potential impact of the treaty is tremendous, since the ulterior motive behind China signing the accord is not to undercut Taiwanese workers, but to obtain the right to interpret Taiwanese cultures," Wu said.
Pointing to a book on the shelve titled The Photographic Book of all Butterflies in Taiwan (台灣蝴蝶大圖鑑), Wu said there are two groups of butterfly researchers in Taiwan: one favors classifying the insects by their common names, while the other prefers doing so by their scientific names.
"The two groups of researchers have coexisted and worked harmoniously in the past. However, if Chinese publishers were allowed to do business in the country, chances are China's system of nomenclature will replace that of Taiwan and gradually wipe out the diversity of our culture," Wu said.
Wu also singles out the Book Republic Publishing Co, which published hundreds of Taiwan-themed books before deciding to follow "market trends," deciding to publish Chinese writer Xu Zhiyuan's (許知遠) The Protestors (抗爭者) last month.
"The Protestors subjectively interprets and distorts the history of the 1990 Wild Lily Student Movement without giving readers a detailed account of the causes of the demonstration," Wu said.
"It also depicts [former Democratic Progressive Party legislator] Lo Wen-chia (羅文嘉) and [former Presidential Office deputy secretary-general] Ma Yung-cheng (馬永成) in a gloomy manner. He [Xu] does not seem to understand Taiwan's social movements at all," Wu said.
Lo and Ma Yung-cheng were both participants in the six-day movement, which was launched in a bid to force government leaders to advance political reforms
"The scariest part of the service trade agreement is not the possibility that it could drive local bookstores out of business, but the likelihood that it could destroy the fundamental values of Taiwanese culture, the protection of which has been the sole purpose of Taiuan-e-tiam's existence," Wu said.
However, Wu refuses to yield to Chinese pressure. He has sought to beef up his store's competitiveness by allowing readers to shop online and starting a Facebook page to share information about the latest publications.
He also plans to invite young comic artists to base in the bookstore to create comic pieces featuring Taiwanese history and culture.
"As Taiwanese democracy pioneer Chiang Wei-shui (蔣渭水) said when he founded the Taiwan Cultural Association in 1920: 'You should either give it your all or give up,'" Wu said.
Comments will be moderated. Keep comments relevant to the article. Remarks containing abusive and obscene language, personal attacks of any kind or promotion will be removed and the user banned. Final decision will be at the discretion of the Taipei Times.