Taiwan 'need not' choose sides on zone
QUESTION OF APPROACH: A former US State Department official said the key issue about the zone is governments in the region approaching disputes through dialogue
Taiwan's handling of Beijing's demarcation of an air defense identification zone (ADIZ) is not a matter of choosing between the US-Japan alliance and China, and President Ma Ying-jeou's (馬英九) administration's call for resolving the dispute through dialogue is welcome, former US deputy secretary of state James Steinberg said yesterday.
"It is a question of all the governments in the region trying to reach and approach their disputes with dialogues and discussions" despite differences of opinion about sovereignty and territory, Steinberg said in response to a media inquiry.
Steinberg, dean of the Maxwell School of Citizenship and Public Affairs at Syracuse University, is on a three-day visit to Taipei. He served as US deputy secretary of state in US President Barack Obama's administration between 2009 and 2011.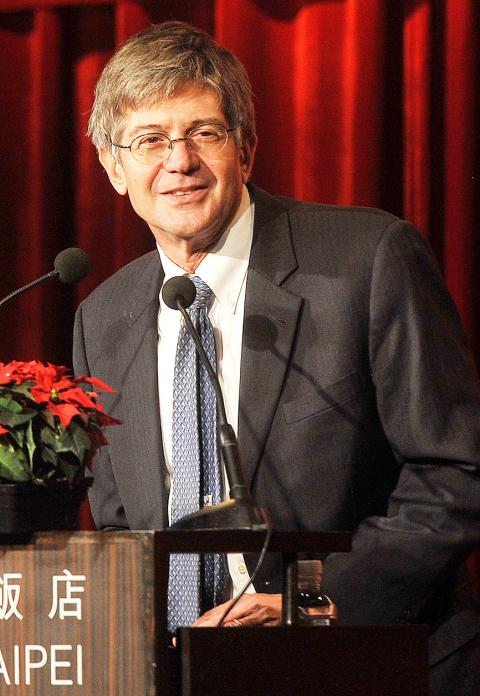 Former US deputy secretary of state James Steinberg yesterday attends the opening ceremony of a foreign relations non-profit association in Taipei.
Photo: Chien Jung-fong, Taipei Times
He praised Ma's East China Sea peace initiative as a model for other countries in the region to settle disputes, saying that the proposal had contributed to a fishery agreement between Taiwan and Japan.
Steinberg said US Vice President Joe Biden's current visit to Japan, China and South Korea was important and timely with regard to the ADIZ issue, giving Biden a chance to directly talk to the governments involved and try to reduce regional tensions.
He said he has already seen signs that tensions are easing since the initial instability after China's announced the zone on Nov. 23, but that Beijing should "thoughtfully consider that it cannot simply take the matter into his own hands without thinking about the consequences."
However, the Democratic Progressive Party (DPP) reiterated its concerns about Ma's handling of the situation yesterday, with DPP Chairman Su Tseng-chang (蘇貞昌) saying Ma's reaction had been "slow, soft and confusing."
Ma, who said the zone was not connected to sovereignty and did not affect commercial flights, has yet to issue any condemnation or protest to Beijing and appeared to have intentionally tried to confuse the public about the differences between a flight information region (FIR) and an air defense identification zone, the DPP said.
In a report to the party's Central Standing Committee meeting about the ADIZ dispute, Policy Research Committee executive director Joseph Wu (吳釗燮) said the establishment of the air defense identification zone would have a serious impact on Taiwan's national security.
With only 30km between the zone's southernmost tip and Taiwan's airspace, the zone has created tremendous pressure on Taiwan's air defenses, Wu said.
The Chinese ADIZ has cut the Taiwanese air force's R8 combat air patrol zone in half, he said.
More importantly, it is likely to hurt relations between Taiwan, Japan and the US, he said.
The zone will counter Washington's anti-access/area denial (A2AD) capability in the region and the US' dominance in the first island chain, Wu said.
It appears that the Ma administration has tried to shift the focus from China to Japan given the Civil Aeronautics Administration mentioning Tokyo's interceptions of Taiwanese commercial air flights near the Diaoyutai Islands (釣魚台) in the past few years, he said.
While the government has stayed silent in response to Beijing's move, it lodged strong protest three years ago when Japan expanded its air defense identification zone near Yonaguni Island, Wu said.
"The core issues of the ADIZ controversy are Taiwan's sovereignty, national security and regional stability, as well as China's expansionism; it is not a civil aviation issue as Ma has claimed," Wu said.
The Obama administration has been also inconsistent in its reaction to China's move, which has challenged the US-Japan security partnership and Obama's rebalancing strategy in Asia, he said.
Comments will be moderated. Keep comments relevant to the article. Remarks containing abusive and obscene language, personal attacks of any kind or promotion will be removed and the user banned. Final decision will be at the discretion of the Taipei Times.