US teen raises funds for Philippine typhoon relief
When 13-year-old Taiwanese American MeiJade Hsu saw television reports of the devastation caused in the Philippines by Typhoon Haiyan, she was determined to help.
MeiJade began fundraising in the Taiwanese American community and made a stirring speech appealing for donations at the Thanksgiving banquet of the Taiwanese Association of America's Greater Washington Chapter last month.
She visited the Philippine embassy in Washington on Monday to present a check for the money she had raised — US$17,430 — to Philippine Ambassador Jose Cuisia.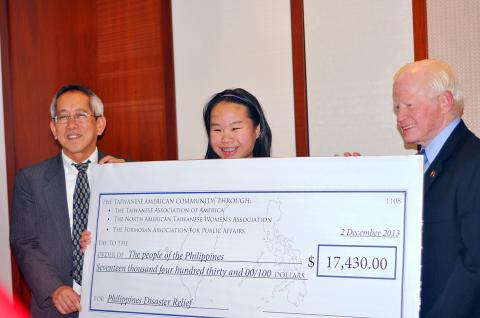 Accompanied by Formosan Association for Public Affairs president Mark Kao, left, MeiJade Hsu, center, presents a check for US$17,430 to Philippine Ambassador Jose Cuisia at the Philippine embassy in Washington on Monday.
Photo: William Lowther, Taipei Times
"I cannot thank you enough for what you are doing to help our suffering countrymen in the Philippines," Cuisia said.
A small delegation of Taiwanese Americans led by Formosan Association for Public Affairs president Mark Kao (高龍榮) accompanied MeiJade to the embassy.
"When the super typhoon hit the Philippines, Taiwanese Americans knew they had to do something and MeiJade led the way," Kao said.
"Our whole community knew that the Philippines needed help and we wanted to work with you as an ally," he said. "We hope this will be the first step to building a cooperative relationship between Taiwanese Americans and the Philippines," he said.
"If there is ever any obstacle to the relationship between the Philippines and Taiwan, we are here to help you remove it," he said.
Speaking to the ambassador with all the confidence of a seasoned diplomat, MeiJade said: "A few weeks ago when Super Typhoon Haiyan smacked into the Philippines, I saw so many images of total destruction on the news."
"I was so shocked when I saw children with no home or food. It was a massive and ferocious storm," she said.
MeiJade, who lives in suburban Washington, said it was "terrifying" just to imagine the suffering.
"I started to think what I could do to help the relief effort," she said. "I decided to campaign in my own local Taiwanese American community so that we could all help and donate together."
"Here in the capital of the US, where many people of all ethnicities have all they want and never experience natural disasters like a super typhoon, it is our job to support those who are not as fortunate," she said. "I talked it over with my parents. Taiwan is a neighbor of the Philippines and as good neighbors we should help each other."
MeiJade said she had also discovered that Taiwan's Aborigines had ancient links with some people in the Philippines and shared cultural traditions.
"My mom is of Taiwanese Aboriginal ancestry and so I feel even more connected to the Philippines," she said. "I hope to give the children in the disaster zone a ray of hope and love.
"As a member of the younger generation I know that in 10 or 20 years it will be our job to take care of this world and bring more peace and prosperity to it," she said.
Cuisia praised MeiJade's eloquence and poise.
"The enormity of the devastation caused by the typhoon is unimaginable," he said.
"The biggest challenge would be to reconstruct and rebuild, and not just buildings, but also lives because many farmers and fishermen had lost everything," he said.
"Many will suffer for years ahead, but the Philippine people are resilient," he said. "It is very important that people like MeiJade are giving them hope. She is an intelligent girl and her parents can be very proud."
Comments will be moderated. Keep comments relevant to the article. Remarks containing abusive and obscene language, personal attacks of any kind or promotion will be removed and the user banned. Final decision will be at the discretion of the Taipei Times.