President defends KMT at anniversary event
President Ma Ying-jeou (馬英九) yesterday defended the Chinese Nationalist Party (KMT), calling it a responsible party, and promised to spare no effort to make the nation stronger and more prosperous as the party celebrated its 119th anniversary.
"Some policies may not be well-planned or perfect, but they were designed to lead us in the right direction. As the KMT chairman and the nation's leader, I am dedicated to making the nation better, stronger and more prosperous," he said at the party's anniversary celebration ceremony in Taipei.
Ma, who doubles as KMT chairman, led KMT officials to pay tribute to the party's founder, Sun Yat-sen (孫中山), at the National Sun Yat-sen Memorial Hall in the morning and met with representatives from physically challenged people's groups as part of the celebration activities, including KMT Legislator Yang Yu-hsin (楊玉欣) and Hsu Chao-yen (許超彥), both of whom use wheelchairs because of spinal cord injuries.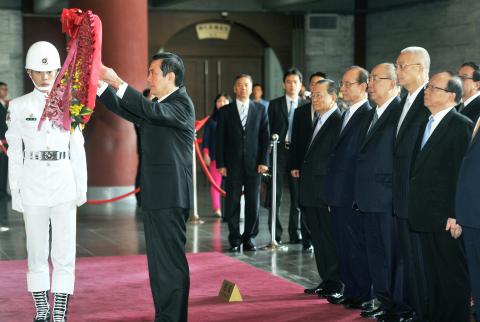 President Ma Ying-jeou places a wreath in front of a bronze bust of Sun Yat-sen at a ceremony marking the Chinese Nationalist Party's (KMT) 119th anniversary at the Sun Yat-sen Memorial Hall in Taipei yesterday morning.
Photo: Chien Jung-fong, Taipei Times
Ma said the party wanted to use its anniversary to demonstrate its continued care for society.
"The KMT nominated Yang to serve as a lawmaker because we expect her to speak up for disabled people and promote their rights. I hope our young members do not focus their attention solely on elections and votes. What is important is to improve people's lives," he said.
He defended the government's efforts to create a better environment for disadvantaged people and said more organizations should cooperate with the government to improve their situations.
"The budget for social welfare work has exceeded the government budget for other fields, including education and national defense. Such a development was rare in the past," Ma said.
Budgeting for social welfare is not enough, he said. The government will seek to combine its efforts with more private organizations and groups to build a better environment for physically challenged people.
Ma also promised to resolve the issue of recent food scandals involving adulterated cooking oils and poisonous starch, and said the government will use tougher regulations against food producers that ignore safety rules.
Vice President Wu Den-yih (吳敦義), KMT Vice Chairman Chan Chun-po (詹春柏) and other top KMT officials attended the celebrations.
Comments will be moderated. Keep comments relevant to the article. Remarks containing abusive and obscene language, personal attacks of any kind or promotion will be removed and the user banned. Final decision will be at the discretion of the Taipei Times.