'Lucy' shooting ends with praise
IDEAL: Despite rumors of fits of anger from director Besson — mostly on account of paparazzi interference — in the end, the Frenchman had nothing but praise for Taipei
French director Luc Besson yesterday praised his Taiwanese film crew for their professionalism and thanked the Taipei City Government for its assistance as he concluded the shooting of his new film, Lucy, in Taipei, dismissing allegations that he planned to cut short the shooting due to clashes with local paparazzi.
Besson has directed Hollywood star Scarlett Johansson and his crew in the shooting of the film in Taipei since Oct. 21, with scenes at Taipei 101, the Taipei Regent Hotel, Yongle Market in Dadaocheng and Taiwan Taoyuan International Airport.
Accompanied by his wife and also the film's producer, Virginie Besson-Silla, Besson yesterday met with Taipei Mayor Hau Lung-bin (郝龍斌) at Taipei 101 to discuss his filming in the city.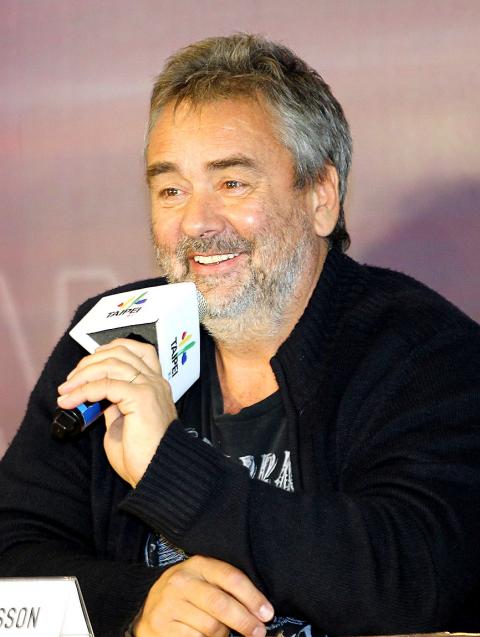 French director Luc Besson talks during a press conference at Taipei 101 in Taipei yesterday.
Photo: CNA
Besson played down previous conflicts with local paparazzi, singling out two unnamed agencies from Hong Kong for disturbing the shooting process, while saying that he never intended to leave because of the harassment.
"It was never in my mind to [leave Taipei]. First, it's impossible because we have many people, and we have a schedule. I don't know where the news came from, but it's wrong," he said.
During shooting, the director was reportedly angry over extensive media coverage, and threatened to cut filming short after reporters allegedly frightened Johansson by getting too close to her taxi to get a shot.
Hau yesterday defended the city's effors to assist with the film. Taipei City's Department of Cultural Affairs and the Taipei Film Commission mobilized over 40 teams to help with shooting and the commission also offered subsidies to the crew as part of the government's efforts to promote Taipei internationally.
Asked how much the subsidy was, Taipei City's Department of Cultural Affairs Commissioner Liu Wei-kun (劉維公) declined to answer, citing a confidentiality agreement.
The director described Taipei as a "photogenic" and friendly city that makes an ideal location for his new film, and applauded the Taiwanese technicians, production teams and actors for their professionalism.
"There's a lot of cities in the world, even Paris, they give you money to shoot. So, it's not about the money, it's not the main thing. It's really about the city," Besson said.
When asked about Martin Scorsese's plans to shoot his new film in Taiwan in June next year, Besson said he would encourage Scorsese to shoot in Taipei, but urged the local press to "let him work. Let him create."
Lucy tells a story about "pure intelligence," Besson said, without elaborating, and only a small part of the film is about drugs despite press allegations. The film is set to be completed next year.
Comments will be moderated. Keep comments relevant to the article. Remarks containing abusive and obscene language, personal attacks of any kind or promotion will be removed and the user banned. Final decision will be at the discretion of the Taipei Times.