I have heard complaints, will try harder, Ma says
'A LITTLE TIME': Ma cited transferring military cases to civilian courts as an example of his responding to public discontent, and urged the passage of the services pact
President Ma Ying-jeou (馬英九) yesterday said he has heard the public's complaints about the government, and promised to try to improve its performance amid constant protests against him.
"We've heard the people's voice, and we hope the people give the government more opportunity and time. There are things that we need to do immediately, and there are things that require a little time. We will do it step-by-step," he said while attending the 13th National Prayer Breakfast in New Taipei City (新北市).
Ma made the comments in response to a protest held at the event, in which several people holding a white banner expressing opposition to several government policies, including the cross-strait services trade agreement, the forced demolition of privately owned houses for urban renewal and the construction of the Fourth Nuclear Power Plant in New Taipei City's Gongliao District (貢寮).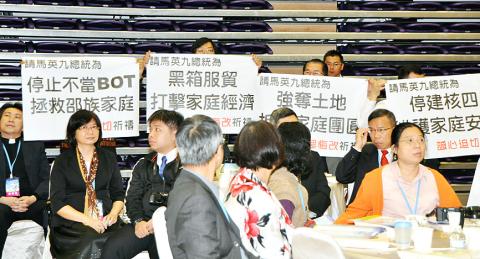 Protesters hold signs during the 13th National Prayer Breakfast in New Taipei City yesterday.
Photo: CNA
The protesters kept silent during the protest, but were still asked to leave by security. The Presidential Office later accepted a petition from them.
Ma defended the government's efforts to improve the economy by signing economic pacts with major trade partners and creating more investment opportunities for local businesses.
He also cited the government's handling of the public discontent over the death of army corporal Hung Chung-chiu (洪仲丘), who died on July 4 after he was confined and forced to do strenuous exercise in extreme heat, and said the government's move to turn over the trials of military personnel to civilian courts was a positive response.
"This example represents the government's prompt response to a request in a mature civil society. The government communicates with the people, and takes necessary actions to respond to their requests," he said.
Later yesterday, while meeting with representatives of the electronic commerce industry at the Presidential Office, Ma said the cross-strait service trade agreement aimed to profit the whole nation, rather than a particular political party or industry.
"Our trade rivals have been speeding up their pace of signing free-trade agreements with mainland China and other nations. The advantages we created via the Economic Cooperation Framework Agreement will disappear soon if we don't catch up," he said, calling for the approval of the service trade pact in the legislature.
The pact, which was signed in June and opened market access to 64 local service sectors to Chinese investment, has been under strong public scrutiny over what the opposition and representatives of the service sectors called lack of transparency and prior consultation.
The legislature went on to demand the pact be screened and voted on clause-by-clause.
Comments will be moderated. Keep comments relevant to the article. Remarks containing abusive and obscene language, personal attacks of any kind or promotion will be removed and the user banned. Final decision will be at the discretion of the Taipei Times.