Legal battle with Wang to continue, KMT says
TOO LATE: Legislative Speaker Wang Jin-pyng missed the deadline to appeal to the KMT to retain his party membership, so it will be resolved through legal means
While expressing regret over Legislative Speaker Wang Jin-pyng's (王金平) decision not to lodge an appeal with the Chinese Nationalist Party's (KMT) Integrity Committee to retain his party membership, the party yesterday said its legal battle against Wang over his membership will continue.
Wang's party membership was revoked by the KMT last month over his alleged improper lobbying for Democratic Progressive Party (DPP) caucus whip Ker Chien-ming (柯建銘) in a legal matter. While the party later softened its stance and urged him to appeal within its structures to retain his membership, he did not file an appeal by the deadline on Monday.
The KMT's Culture and Communication Committee director Fan Chiang Tai-chi (范姜泰基) said President Ma Ying-jeou (馬英九), who is also KMT chairman, and party heavyweights have called for Wang to resolve the issue by appealing to the party, and the KMT will respect his decision.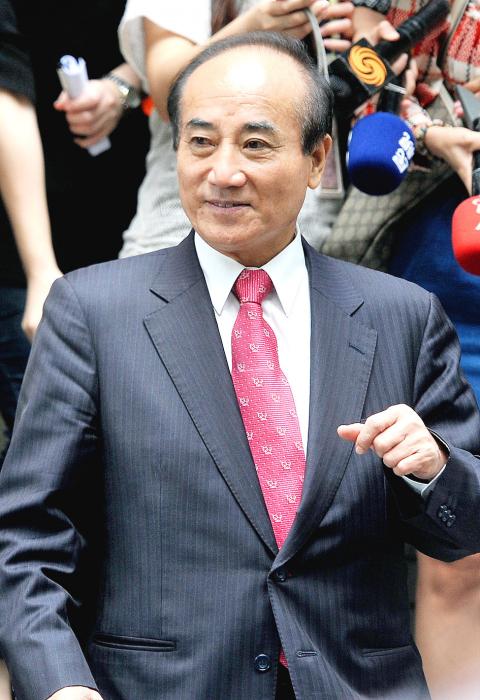 Legislative Speaker Wang Jin-pyng leaves the Legislative Yuan in Taipei yesterday after an opposition motion of no confidence in Premier Jiang Yi-huah's Cabinet was voted down.
Photo: Chien Jung-fong, Taipei Times
"Because the deadline for the party's appeal procedures has passed, we will wait for the result of the lawsuit and resolve the issue through legal means," he said.
The legal battle between Wang and the KMT began when Wang filed a provisional injunction with the Taipei District Court against the party's decision to revoke his membership and therefore invalidate his legislator status. The court ruled that Wang would be able to retain his membership and rights as a KMT member after submitting a guarantee of NT$9.38 million (US$315,000), to the KMT.
Ma has urged Wang to contest the party's decision through internal channels amid the legal battle. Former KMT chairmen Lien Chan (連戰) and Wu Poh-hsiung (吳伯雄) also tried to persuade Wang to resolve the political strife by appealing to the party and promoting unity ahead of its party congress.
Wang said that although he knew the party was sincere in its efforts to reach out to him, he has not changed his mind about how he would resolve the issue.
The KMT is to invite all party delegates to attend the party congress, which is scheduled to be held next month in Greater Taichung.
Wang, a KMT legislator and delegate, will be on the invitation list, Fan Chiang said, dismissing previous suggestions that the party would exclude Wang from the event.
Comments will be moderated. Keep comments relevant to the article. Remarks containing abusive and obscene language, personal attacks of any kind or promotion will be removed and the user banned. Final decision will be at the discretion of the Taipei Times.