Cross-strait ties affect the world: former AIT head
Taiwan's military and economic strategic significance should not be underestimated as cross-strait relations have a serious impact not only in Asia, but the rest of the world, former American Institute in Taiwan (AIT) director William Stanton said in Taipei yesterday.
China is interested in Taiwan because of its geographic location in the first island chain, a key region for Chinese military projection and a strategically important area close to the East China Sea and the South China Sea, Stanton said.
China is interested in taking Taiwan because of "where it is, not what it is," Stanton said, adding that Taiwan's east coast also provides access to the Pacific for China's submarines.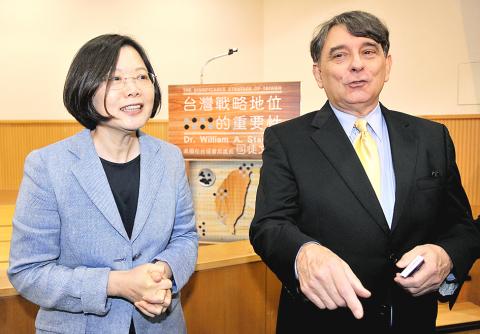 Former American Institute in Taiwan (AIT) director William Stanton, right, poses for a photograph with former Democratic Progressive Party chairperson Tsai Ing-wen after delivering a speech at a forum in Taipei yesterday.
Photo: Chien Jung-fong, Taipei Times
Stanton, who now lives in Taiwan as a permanent resident and serves as director of National Tsing Hua University's Center for Asia Policy, delivered the speech at a forum organized by the Thinking Taiwan Foundation, which was founded by former Democratic Progressive Party chairperson Tsai Ing-wen (蔡英文).
The retired US diplomat encouraged Taiwan to integrate itself with its trading partners by joining regional economic agreements and to reach out to improve its relations with other countries so it would not be overdependent on China's economy.
Stanton said it is "less likely" that Washington would assist Taiwan in the wake of a Chinese invasion, but as long as the consensus is maintaining the "status quo," the cross-strait situation would not change.
The former director said the US has not been using Taiwan as a bargaining chip in its engagements with China and that Washington would not "just walk away," but it is imperative for Taiwan to continue to have maximum contacts with officials in Washington.
Stanton declined to comment on President Ma Ying-jeou's (馬英九) comments on Thursday, in which he described cross-strait relations as "not international relations."
Comments will be moderated. Keep comments relevant to the article. Remarks containing abusive and obscene language, personal attacks of any kind or promotion will be removed and the user banned. Final decision will be at the discretion of the Taipei Times.