Civic groups to rally against 'opacity' of service trade pact
Civic groups yesterday said they are planning to protest against the "opaque" cross-strait service trade agreement on July 27 to express their concerns about the negative impact the pact may have on people's livelihoods.
The groups said the rally will be held on Ketagalan Boulevard in front of the Presidential Office. The organizations involved include the Taiwan Association of University Professors (TAUP) and several pro-independence groups, including the Hakka Society, the Northern Taiwan Society, the Taiwan United Nations Alliance, the Alliance of Referendum for Taiwan and the 908 Taiwan Republic Campaign.
Since it was signed without first conducting a comprehensive impact assessment and with no transparency, the pact may harm thousands of local businesses and millions of workers, and jeopardize national security, TAUP president Lu Chung-chin (呂忠津) said.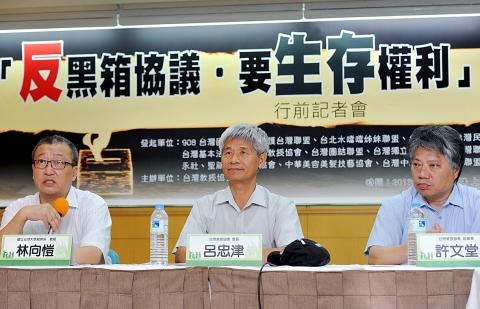 Taiwan Association of University Professors president Lu Chung-chin, center, and two association members call on supporters to protest against the cross-strait service trade agreement at a press conference in Taipei yesterday.
Photo: Chien Jung-fong, Taipei Times
"The people of Taiwan can do nothing except express their anger and opposition to the pact on the streets since the government just ignores them," Lu told a press conference.
Lu said the groups are demanding that the government renegotiate the pact with Beijing.
National Taiwan University professor Kenneth Lin (林向愷) proposed holding daily demonstrations of between 5,000 and 10,000 protesters in front of the legislature in Taipei when lawmakers review the pact in an extra session, which is set to begin on July 29.
Three years after the Economic Cooperation Framework Agreement (ECFA) was signed, Taiwanese have finally realized that only a select few have benefited from the pact, while the majority have been suffering from its negative effects, Lin said.
"There is no better time to ask for a renegotiation or a suspension of the service trade agreement than now," he said.
Lin said that the free-trade pact with New Zealand was different from the ECFA and the service pact in terms of the impact it would have on the nation.
The opening of service sectors to Chinese investment would have larger negative impacts than opening up agricultural sectors to New Zealand because of the similarities between Taiwan and China in language and culture, he said.
Comments will be moderated. Keep comments relevant to the article. Remarks containing abusive and obscene language, personal attacks of any kind or promotion will be removed and the user banned. Final decision will be at the discretion of the Taipei Times.