'Old dogs' learn new tricks, earn junior-high degrees
Two nonagenarians became the oldest junior-high school graduates in the nation last week after they were awarded honorary diplomas for embodying the spirit of the saying: "It is never too late to learn."
On Friday last week, Liu Chang-jung (劉昌榮), 96, and Huang Chi-ming (黃啟明), 91 — together with more than 1,300 young graduates — received their long-awaited diplomas from Greater Kaohsiung Education Bureau Director-General Cheng Hsin-hui (鄭新輝) at a joint ceremony organized by Baolai Junior High School and Yangming Junior High School.
Liu and Huang were also presented with honorary certificates for completing a computer course at Baolai Junior High School, where they had spent the past two years taking lessons together.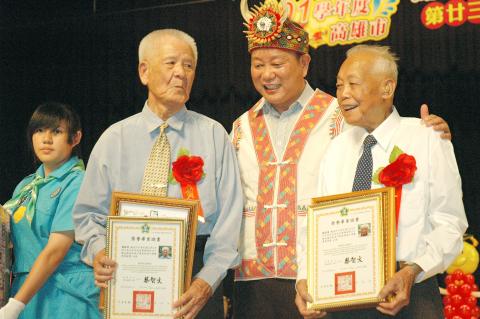 Greater Kaohsiung Education Bureau Director-General Cheng Hsin-hui, second right, presents Liu Chang-jung, right, and Huang Chi-ming, second left, with honorary junior-high school diplomas at a graduation ceremony on Friday.
Photo: Fang Chih-hsien, Taipei Times
Liu said he had attended school when the nation was under Japanese control, but dropped out to eke out a living peddling camphor oil on the street.
"I have always regretted dropping out of school, so I decided to pick up my textbooks two years ago and start taking computer and Chinese-language courses," Liu said, adding he was delighted to receive the honorary diploma.
Unlike Liu, Huang was born into a relatively affluent family that owned a massive fish farm in Greater Tainan's Cigu District (七股).
After his family relocated to Baolai Borough (寶來) in Greater Kaohsiung's Liouguei District (六龜), Huang founded a hot spring resort across the street from where Baolai Junior High School now stands.
Despite his professional success, Huang said he always had the desire to learn something new, which is why two years ago, he accepted Liu's suggestion that they sign up for a computer class at the school.
Baolai Junior High principal Tsai Chih-wen (蔡智文) said he was deeply impressed by the two students' diligence in class.
"The pair was particularly interested in their computer classes, which included lessons in audio and visual effects, as well as in their Chinese-language courses, which afforded them knowledge that could be applied in everyday life," Tsai said.
Tsai said that while the pair had difficulty typing on a computer keyboard because their mobility had degenerated with age, they had no problem learning how to play videos on a computer or upload photographs.
Applauding Liu and Huang for pursuing their education despite their advanced age, Cheng called on younger students to follow the pair's example and devote the best years of their lives to learning.
Comments will be moderated. Keep comments relevant to the article. Remarks containing abusive and obscene language, personal attacks of any kind or promotion will be removed and the user banned. Final decision will be at the discretion of the Taipei Times.