As Su visits Washington, US politician shows support for Taiwanese fishermen
STALWART: In addition to backing Taiwan's fishing rights, US Representative Ed Royce pushed for better trade ties and called for parole for Chen Shui-bian
Taiwanese fishermen have suffered injustice for far too long and this state of affairs must be brought to an end, US House of Representatives Foreign Affairs Committee Chairman Ed Royce said in Washington on Wednesday.
The US needs to make it clear that it supports Taiwanese fishermen, Royce said in a speech at a US Congressional reception for Democratic Progressive Party (DPP) Chairman Su Tseng-chang (蘇貞昌), who is on a four-day visit to Washington during which he is scheduled to open his party's new offices in the US capital.
Royce said that Taiwanese fishermen "trying to make a living, trying to support their families" had suffered injustice for years.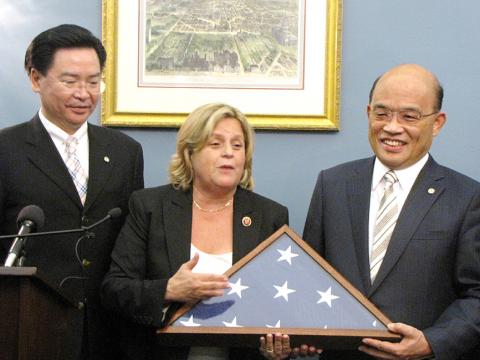 US Representative Ileana Ros-Lehtinen, center, presents DPP Chairman Su Tseng-chang, right, with a US flag in Washington on Wednesday.
Photo: Tsao Yu-fen, Taipei Times
The nation's fishermen, he said, had to carry "a roll of money" in case they were stopped on the high seas and held to ransom.
Referring to the May 9 incident in which Taiwanese fisherman Hung Shih-cheng (洪石成) was shot and killed by Philippine Coast Guard (PCG) personnel, Royce said it was incumbent upon those concerned about human rights to speak out.
He called the attack a "tragedy," adding that he had been in touch with the Philippine government concerning the incident and called for it to make a full apology to Hung's family, to the people of Taiwan and to the Taiwanese government.
"Going forward, we should reach an agreement for Taiwanese fishermen to fish in Taiwanese waters and traditional fishing areas without this type of harassment," Royce said.
"The US needs to make it very clear that this type of injustice has gone on for far too long against Taiwanese fishermen and it must come to an end," he added.
Earlier, Royce announced that a US legislative bill supporting Taiwan's request for observer status at the International Civil Aviation Organization would go to the floor of the US House of Representatives for a vote next Tuesday.
The bill seems likely to pass and could be voted on by the US Senate as early as next month.
"It will help give Taiwan the necessary tools that it needs now there is so much more trade and travel," Royce said.
"We have to make certain that airports in Taiwan have access in real time to the same technology that other major airports around the world have," he said.
The US should also increase trade and investment ties with Taiwan, Royce said.
Royce said the US Congress should make sure that computers manufactured in Taiwan have access to the US market with the lowest possible tariffs, "so that Taiwan can further expand its export markets and at the same time allow us here in the US to do more trade and investment with Taiwan."
The reception was attended by 21 members of Congress and their staffs along with senior US officials, including American Institute in Taiwan Chairman Raymond Burghardt.
"We have always maintained excellent relations with the DPP, that's the way we conduct our foreign policy," Burghardt said.
He said that the US understood that the DPP wished to "have a strengthened office here in Washington."
Former chairman of the foreign affairs committee, US Representative Ileana Ros-Lehtinen, a Florida Republican, presented Su with a US flag that had been flown over the US capitol in his honor and called him "a real champion of American ideals."
She said that the US must realize the changing needs of Taiwan "in an increasingly hostile geopolitical neighborhood."
Ros-Lehtinen warned against the "ever-expanding territorial claims of China" and said that earlier this year she had introduced the Taiwan Policy Act together with the co-chairs of the Congressional Taiwan Caucus.
"This multi-pronged legislation addresses over a dozen different aspects of the US-Taiwan relationship," she said.
"Among its provisions is the authorization of the sale of much-needed F-16C/D fighter aircraft, as well as the transfer of decommissioned class guided missile frigates to Taiwan," Ros-Lehtinen said.
About six members of the US Congress who addressed the reception to welcome Su also called on the administration of President Ma Ying-jeou (馬英九) to grant medical parole to former president Chen Shui-bian (陳水扁), who is serving a long prison term for corruption.
Ohio Republican Steve Chabot, who recently visited Chen in prison, said the former president was now so sick that he was shaking uncontrollably and had difficulty speaking.
Chabot called on Ma to "do the right thing" for Taiwan and grant Chen medical parole.
The reception was organized by the Formosan Association for Public Affairs (FAPA).
"A free and democratic Taiwan will maintain regional stability and is in the best interests of the US and Taiwan," FAPA president Mark Kao (高龍榮) said.
Comments will be moderated. Keep comments relevant to the article. Remarks containing abusive and obscene language, personal attacks of any kind or promotion will be removed and the user banned. Final decision will be at the discretion of the Taipei Times.