Su touts DPP's local, foreign policies
PRAGMATISM: The DPP chairman, who is visiting the US, laid out the party's goals, including winning in the seven-in-one polls in 2014 and managing cross-strait ties
The Democratic Progressive Party (DPP) will be pragmatic in handling domestic affairs and is capable of managing relations across the Taiwan Strait, DPP Chairman Su Tseng-chang (蘇貞昌) told Taiwanese-Americans in New York on Sunday, according to a DPP press release.
Su, who is visiting North America until Tuesday next week, also said in a speech at a dinner banquet that while some people are not happy with the nation's current name, the Republic of China, as stipulated in the Constitution, "hopefully, someday we could engage the international community using the name Taiwan."
Addressing domestic politics, Su said that the DPP has set high goals of winning a planned national referendum on the construction of the Fourth Nuclear Power Plant in Gongliao District (貢寮), New Taipei City (新北市), this year and the seven-in-one local elections next year, but the party would be patient and pragmatic in its policy formulation and would put forward concrete actions rather than offering lip services as the administration of President Ma Ying-jeou (馬英九) has done.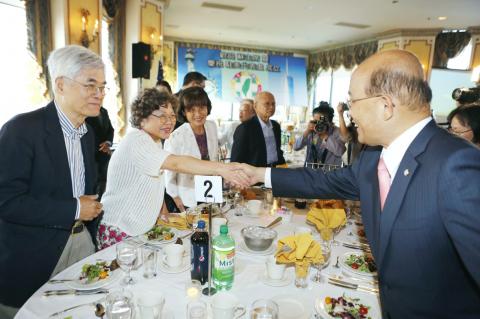 Democratic Progressive Party Chairman Su Tseng-chang, right, shakes the hand of an overseas Taiwanese during a function in New York on Sunday.
Photo: Chen Wei-min, Taipei Times
That is why the party has released a defense blue paper, a pension reform plan based on social equality and has organized a series of "open studio" forums on social and national affairs, Su added.
On external affairs, Su highlighted his initiative of a democratic alliance, which he said would consolidate international support for Taiwan, while balancing out Taiwan's overdependence on China during Ma's term.
However, the DPP is aware that the international community is watching if the party is capable of handling cross-strait relations, he said, adding that the DPP has been seeking further engagement with China — not only with Beijing, but also the Chinese people and its civil society.
Su elaborated on his recent comment in an interview, in which he was quoted as saying that working on Taiwanese independence would be "unnecessary" because Taiwan — unlike Xinjiang and Tibet — is a de facto independent and sovereign nation.
The DPP's landmark Resolution on Taiwan's Future, which was passed in 1999, defines Taiwan as a sovereign nation separate from China, while acknowledging the Republic of China as the country's current formal title, he said.
"While some people are unhappy with it, it is the 'status quo,'" Su said.
"We could change it by a democratic process [in the future], but we must accept the status quo before it is changed," Su added.
The party's latest survey showed that 55 percent of respondents supported Taiwanese independence, with the support rate among female respondents higher than that among men, said Wu Hsiang-jung (吳祥榮), director of the DPP's poll center, who is accompanying Su on the trip.
Support for Taiwan's independence has increased under Ma's administration, as has the number of people who identify themselves as Taiwanese, at 75.6 percent, Wu said.
The DPP is cautiously optimistic about the major elections in the next three years as 41 percent of those polled said they would vote for DPP candidates in the seven-in-one elections next year against 23.9 percent who said they would favor Chinese Nationalist Party (KMT) candidates.
For the 2016 presidential election, 44.9 percent of respondents were in favor of the DPP, while 23.5 percent signaled support for the KMT, Wu said.
Su, who arrived in New York after his first stop in Los Angeles, is scheduled to visit Houston, Washington, Toronto and Vancouver before returning to Taiwan.
Comments will be moderated. Keep comments relevant to the article. Remarks containing abusive and obscene language, personal attacks of any kind or promotion will be removed and the user banned. Final decision will be at the discretion of the Taipei Times.