Ma's defense efforts questioned: DPP
The latest US report on the imbalance in military capabilities across the Taiwan Strait raises further questions about President Ma Ying-jeou's (馬英九) determination to defend Taiwan and his capability as commander-in-chief, Democratic Progressive Party (DPP) lawmakers said yesterday.
A US Department of Defense report released on Monday, titled Military and Security Developments Involving the People's Republic of China, briefly criticized Taiwan's defense spending, which is now approximately 2 percent of GDP — below Ma's pledge of 3 percent, and its transition to voluntary military service.
The legislators told a press conference that Ma "has mistakenly claimed that cross-strait relations are at their best in six decades," adding that this was the basis for the weakened foreign and defense policy.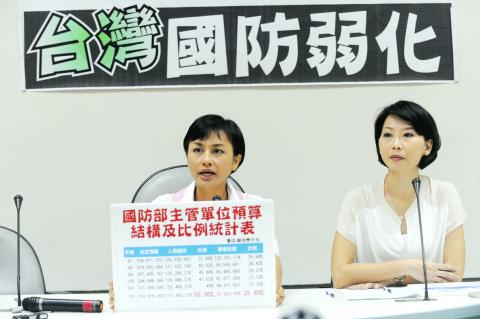 Democratic Progressive Party legislators Chiu Yi-ying, left, and Chen Ting-fei urge the government not to reduce the military budget at a press conference at the Legislative Yuan in Taipei yesterday.
Photo: CNA
DPP Legislator Chen Ting-fei (陳亭妃) said the ratio of conscripted soldiers and voluntary soldiers was 47.5 to 52.5 in 2007 when the DPP was in power, but the ratio has dropped dramatically since then and is now 37 to 63.
"While Ma pledged the implementation of a volunteer system, the ratio has not improved since he took office," Chen said.
Ma was diverting funds from weapons acquisition programs and using them for salaries and benefits, adding that military investment accounted for 35.94 percent of the total defense budget in 2008, a ratio that has dropped to 25.89 percent this year, she said.
"We support a volunteer military, but it is absolutely wrong to divert the weapon procurement budget to personnel salaries," she said.
The Ministry of National Defense yesterday responded to the US report, saying it could not afford to reduce its vigilance.
Ministry spokesman Major General David Lo (羅紹和) said that despite eased cross-strait tensions, it was evident that China had not abandoned the idea of invading Taiwan and had continued to modernize its military and to deploy missiles.
In face of China's growing clout and increasing military budget, the military needs to strengthen itself to maintain continued peace in the Taiwan Strait, Lo said. The military must be practical and establish an elite armed force that, while reduced in size, loses none of its potency and ability, he said
In essence, the military needed to give an enemy sufficient reason to be wary of hostile intentions though innovative and asymmetric strategies, Lo said.
He said the ministry was aware of the nation's tightened finances and had sought to reduce its expenditures. Within reasonable budget limitations, continued investment in military technology is expected, Lo said.
The change from conscription to a voluntary service is a major transition for the military, and in the short term, the proportion of the military's budget for personnel would increase to help facilitate the changeover, Lo said.
Comments will be moderated. Keep comments relevant to the article. Remarks containing abusive and obscene language, personal attacks of any kind or promotion will be removed and the user banned. Final decision will be at the discretion of the Taipei Times.