Su warns of growing Chinese influence
'INTO THE BRAINS': The DPP chairman said that China's economic and cultural power is being used to absorb Taiwan, saying it had used the same strategy in Hong Kong
China may have toned down its military threats against Taiwan, but its strategy of adopting the "soft power" of economic and cultural influence to absorb Taiwan appears to be working, Democratic Progressive Party (DPP) Chairman Su Tseng-chang (蘇貞昌) said yesterday.
"Chinese influence and presence is everywhere, as far as I'm concerned," Su said at an event organized by the Ketagalan Institute, an educational institution founded by former president Chen Shui-bian (陳水扁).
Su cited several local TV news channels' live broadcast of a Chinese singing competition show for hours on Friday night as an example, saying it "had gone too far and had violated the principle of proportion."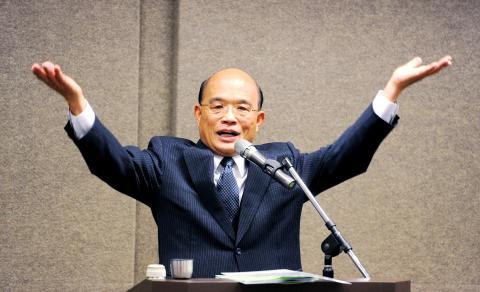 Democratic Progressive Party Chairman Su Tseng-chang speaks at the Ketagalan Academy in Taipei yesterday.
Photo: Lo Pei-der, Taipei Times
The Chinese-language Liberty Times (the Taipei Times' sister newspaper) reported yesterday that ETTV and CtiTV dedicated almost their entire news programs to broadcast I'm a Singer (我是歌手), a singing competition show produced by China's Hunan TV in which several Taiwanese singers made Friday night's final.
While the production of the show should be seen as a commercial activity, the Taiwanese TV media's practice showed that China's strategy of asserting its influence "into the island, into households and into the brains [of Taiwanese]" (入島,入戶,入腦) has been working, Su said.
The broadcast was only the tip of the iceberg, Su said, because TV stations, newspapers and magazines promote pro-China information on a regular basis.
"If the responsible government agency does not regulate such practices, Taiwan could become the next Hong Kong," Su said, adding that China applied almost the same strategy to Hong Kong media before and after the 1997 handover.
Su also touched upon the anti-nuclear issue at the event, where he delivered a speech on political leadership and reform, saying that the government had failed to even release any credible assessment report on the controversial Fourth Nuclear Power Plant.
On the contrary, the government is trying to leverage the high threshold required to pass referendums and manipulate the referendum question to get its way, he said.
He called on people to participate in the planned national referendum later this year and "punish the Chinese Nationalist Party [KMT] by passing the referendum and suspending the construction of the Fourth Nuclear Power Plant."
The suspension of the Fourth Nuclear Power Plant would provide Taiwan with an opportunity to revamp its industrial policy and upgrade its industrial structure by promoting energy conservation, he said.
Comments will be moderated. Keep comments relevant to the article. Remarks containing abusive and obscene language, personal attacks of any kind or promotion will be removed and the user banned. Final decision will be at the discretion of the Taipei Times.