Beijing should not 'push political talks'
Since there are still serious "conceptual" differences between Taiwan and China, and Taiwanese are not ready to explore cross-strait engagements in areas beyond the economy and trade, Beijing should not push Taipei to hold talks on political and security issues, former American Institute in Taiwan chairman Richard Bush said in Taipei yesterday.
Bush said he was "rather pessimistic" that cross-strait negotiations would move beyond the relatively easy economic issues into political and security matters during President Ma Ying-jeou's (馬英九) remaining time in office, which overlaps significantly with Chinese President Xi Jinping's (習近平) term.
Some in China would like to see this turning point in the development of cross-strait ties happen during Ma's second term, but Bush said he did not expect this would occur for two reasons.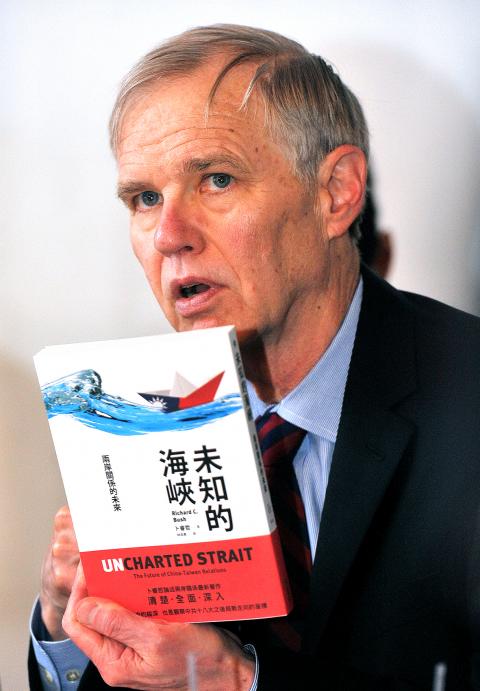 Former American Institute in Taiwan chairman Richard Bush holds a copy of the Chinese edition of his book "Uncharted Strait: The Future of China-Taiwan Relations" at a book launch in Taipei yesterday.
Photo: Chien Jung-fong, Taipei Times
"One is that it is clear to me that the Taiwanese public is not ready for that turning point. Second, I think that there are still important conceptual gaps between the two sides," he said.
At the center of the conceptual disagreements between the two countries is the issue of whether China is willing to accept the existence of the Republic of China (ROC), Bush said.
"I hope that Beijing is not pushing [Taipei] on this. Some of its policymakers are very patient on this [matter] and I hope that their patience continues," he said.
Bush, who is the director of the Brookings Institution's Center for Northeast Asian Policy Studies in Washington, is in Taipei to launch the Chinese edition of his book Uncharted Strait: The Future of China-Taiwan Relations, the third in his trilogy about Taiwan.
At the book launch, Bush praised cross-strait rapprochement in the five years since Ma took office and attributed the progress to both Ma and former Chinese president Hu Jintao (胡錦濤), whom he said had taken "certain risks" to reduce the level of "mutual fear" trapping both sides over the past 10 to 15 years.
China's recent push for bilateral talks on issues involving eventual unification, as stated in Hu's work report to the Chinese Communist Party's 18th National Congress, has brought political issues to the forefront of cross-strait negotiations, exerting pressure on Ma to deal with the sensitive topics.
Bush said he did not think a reversal in cross-strait ties was likely because there is a still much work to be done in economic areas and perhaps also in the cultural sector.
"Maybe a little bit more likely is that since the momentum will slow down, it's possible that some mistrust could develop because of that," he said.
"But I hope that won't happen," Bush said. "I think there is still a lot to do in the economic area and particularly important is that the two sides implement well the agreements that have already been reached [in the past five years], and so feel confident that it's worth moving forward to other types of agreements."
Bush said that Beijing could eventually change its approach toward Taiwan from a "paradigm of mutual persuasion," under which each side needs to communicate clearly what it needs in their interactions, to a "paradigm of power asymmetry" to seek its ultimate goal of unification through pressure and intimidation.
Bush said he did not think this would happen in the next few years, but it might happen if the Democratic Progressive Party returns to power, or if Beijing for some reason loses patience with the Chinese Nationalist Party (KMT) government.
Asked about Taiwan's military investment, Bush said it is important for the nation to develop a defense and security strategy that reflects the threats facing it.
He added that it is appropriate for military authorities to look into the local production of advanced fighter aircraft and submarines in light of the current threats the country has to deal with and its budgetary situation.
Asked about his views on a cross-strait peace accord, Bush said it was "fairly unlikely" that such a pact would be signed in the near future.
"To sign a peace accord, you will probably have to have a precise definition of 'one China,' something more explicit than the [so-called] '1992 consensus.' That gets you again to the issue of the ROC, which is very difficult," Bush said.
It is not clear how much Taiwan's security would be improved if it inked a peace accord with China if the pact only covers intentions — such as Taiwan pledges not to declare independence and China renounces the use of force against Taiwan — and ignores that China continues to build up its military capabilities, Bush said.
Comments will be moderated. Keep comments relevant to the article. Remarks containing abusive and obscene language, personal attacks of any kind or promotion will be removed and the user banned. Final decision will be at the discretion of the Taipei Times.