Environmentalist continues sit-in protest in Taipei
A movement led by an environmentalist at New Taipei Municipal Chiang-Tsui Junior High School to protect 32 old trees that are to be removed from the campus continued yesterday, more than 80 hours after it began on Thursday morning.
Pan Han-chiang (潘翰疆), head of the tree protection volunteer group, has been residing in a large banyan tree since 6am on Thursday to protest the methods used by construction workers to remove the old trees, which resulted in damage to five trees on Tuesday.
"I will use all my strength and will to the last minute to protect the 'sea of trees' and the community's old memories with the goal of keeping the trees where they are now and stopping the inappropriate construction work," Pan said.
Pan Han-chiang sits in a banyan tree at Jiangcui Junior High School yesterday, where he has been since 6am on Thursday.
Photo: Lee Hsin-hung, Taipei Times
Several environmentalists, local residents, teachers, students and alumni have expressed their support for Pan by visiting the school in the past couple of days. Fu Tung-sen (傅東森), a representative from another tree protection group in Greater Taichung, arrived at the site yesterday to offer support from several environmental groups in Taichung.
The Green Party Taiwan said Pan would remain on the tree, at least until negotiations with the city government begin this afternoon.
The Green Party Taiwan said civic groups have suggested a number of topics for discussion at the meeting, including: public participation and information disclosure; reevaluation on whether the construction work is needed; the possibility of keeping the trees where they are and how to heal the damaged trees; and how construction operations could proceed.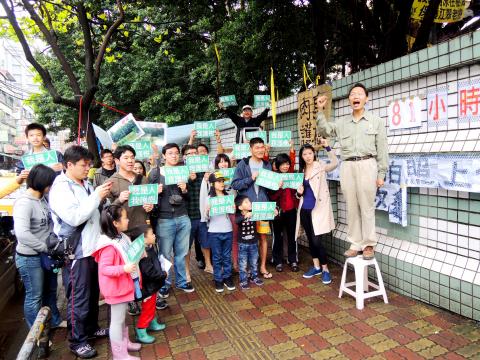 Pan Han-shen lead local residents in chanting "I am a person, I protect trees" outside Jiangcui Junior High School in New Taipei City's Banciao District yesterday.
Photo: Lee Hsin-hung, Taipei Times
Comments will be moderated. Keep comments relevant to the article. Remarks containing abusive and obscene language, personal attacks of any kind or promotion will be removed and the user banned. Final decision will be at the discretion of the Taipei Times.