Snakes coming out with the arrival of spring, CDC warns
OUTDOOR ACTIVITIES: The center issued a list of six dangerous types of snakes, precautions to avoid being bitten and what to do when bitten
The public should beware of venomous snakes during tomb-sweeping or other outdoor activities, because spring has arrived and snakes are coming out of hibernation, the Centers for Disease Control (CDC) said yesterday.
There are 16 species of poisonous snakes in the nation, six of which are capable of severely wounding or even killing humans, said Jean-Jay Mao (毛俊傑), an assistant professor in the Department of Forestry and Natural Resources at National Ilan University.
"The six dangerous snakes are the Taiwanese krait, the Taiwan cobra, the Siamese Russell's viper, the Taiwan habus, or pointed-scale pit viper, the Taiwan bamboo viper, and the hundred pacer, or Chinese moccasin," Mao said.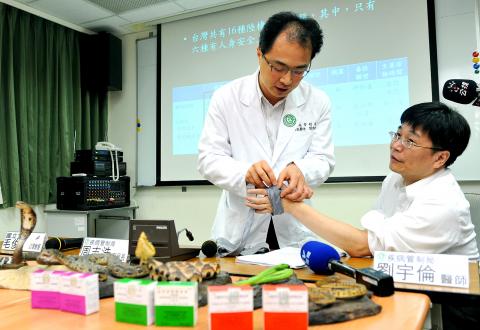 Centers for Disease Control (CDC) physician Liu Yu-lun, left, demonstrates how to dress a snake bite at a press event in Taipei yesterday, using CDC Deputy Director-General Chou Jih-haw as a model.
Photo: Chien Jung-fong, Taipei Times
"The venom of the first two contains hemorrhagic toxins, the venom of the last three contains neurotoxins and the Russell's vipers' venom contains both types of toxins," he added.
People who plan to go to mountainous areas should wear long-sleeved shirts, pants and boots for protection against snake bites, he said.
"Carrying a stick to probe an area before stepping into it is necessary and effective. People should also avoid putting their hands or feet into crevasses, holes or bushes without caution, and should carry a torch if they venture into places with little light," Mao said.
Liu Yu-lun (劉宇倫), a disease prevention physician working at the CDC, offered instructions on the steps to follow if bitten by a snake.
"The first thing is to stay calm and try to remember the distinguishing marks of the snake, such as its shape, color and other features," Liu said.
"Apply an elastic bandage or the like 5cm to 10cm from the bite. Keep the affected limb lower than the heart. Take off all metallic products from the bitten extremity. Do not try to suck the venom out of the snakebite, and take the victim to hospital immediately," he added.
According to CDC statistics, about 1,000 people in Taiwan fall victim to snakebites every year, mostly by the Taiwan bamboo viper, the Taiwan habus and the Taiwan cobra.
The center said that the mortality rate from snakebites is very low in Taiwan, and with a large amount of antivenom in storage, the rate is expected to be less than 1 percent.
Comments will be moderated. Keep comments relevant to the article. Remarks containing abusive and obscene language, personal attacks of any kind or promotion will be removed and the user banned. Final decision will be at the discretion of the Taipei Times.