Tibetans call for Taiwanese solidarity
GET UP, STAND UP: Saying Taiwan also suffers China's oppression, Tibetans urged a show of support ahead of tomorrow's anniversary of the 1959 Tibetan uprising
Tibetan government-in-exile Finance Minister Tsering Dhundup visited the Legislative Yuan yesterday to promote better bilateral ties ahead of a demonstration tomorrow to commemorate the 54th anniversary of the 1959 Tibetan uprising.
Accompanied by the president of Tibet Religious Foundation of H.H. the Dalai Lama, Dawa Tsering, the official appealed for Taiwanese to support Tibetans' fight for freedom in a 60-minute meeting with lawmakers from the Democratic Progressive Party (DPP) and the Chinese Nationalist Party (KMT).
In a report on the status of the Tibetan government-in-exile, Dhundup underlined Tibetans' insistence on peaceful and non-violent means of protest and use of negotiations in their dealings with Beijing, adding that the government-in-exile has given up the idea of full Tibetan independence and has been trying to reach a compromise with Beijing.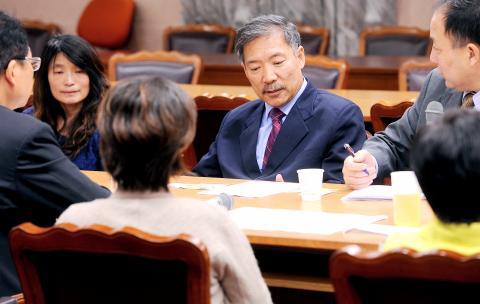 Tibetan government-in-exile Finance Minister Tsering Dhundup, right, talks with Democratic Progressive Party lawmakers in the legislature yesterday. A demonstration is scheduled to be be held today to commemorate the 54th anniversary of the 1959 Tibetan uprising.
Photo: Chu Pei-hsiung, Taipei Times
However, China has never let up on its oppression of Tibetans, in particular in its suppression of Tibetan religious beliefs — one of the core values of Tibetans — and that was why many Tibetans have had to resort to self-immolation in an extreme form of protest so that their voices may be heard, Dhundup said.
There have so far been 107 cases of self-immolation according to the Tibetan government-in-exile's statistics, he said.
"While the Tibetan government-in-exile does not support extreme measures, we cannot tell Tibetans they have another way to express their opinions in the same way that people in other countries can," he said.
"This is because there is no freedom of expression in Tibet," he said, adding that unless China changes its policy, then Tibetans' fight for religious freedom and autonomy would not stop.
DPP Legislator Hsiao Bi-khim (蕭美琴) condemned China's oppression of Tibet, especially as Tibetans are only seeking greater autonomy.
DPP Legislator Yu Mei-nu (尤美女) lamented President Ma Ying-jeou's (馬英九) silence on the Tibetan self-immolations and China's suppression of the region since taking office.
Yu also noted that Ma had condemned Beijing's Tibet policy during his 2008 presidential election campaign.
Taiwan is able to help exiled Tibetans immediately by passing the refugee act, which is stuck in the legislature due to a KMT boycott, Yu said.
"China will not be able to suppress Tibetans forever. Taiwan, which is also suppressed by China internationally, should work with Tibetans in their pursuit of the universal values of peace and freedom," DPP Legislator Wu Ping-jui (吳秉叡) said.
Chen Ou-po (陳歐珀), Chen Chieh-ju (陳節如) and Lin Chia-lung (林佳龍) of the DPP, and Apollo Chen (陳學聖) of the KMT also attended the meeting.
Comments will be moderated. Keep comments relevant to the article. Remarks containing abusive and obscene language, personal attacks of any kind or promotion will be removed and the user banned. Final decision will be at the discretion of the Taipei Times.