The 228 Incident: Director uncovers story behind 228 work
While family members of 228 Massacre victims might draw a blank as to who Huang Rongcan (黃榮燦) is, they are most likely familiar with his print painting Terrible Inspection (恐怖的檢查), a work of art that has become one of the most famous depictions of the 228 Incident.
The 228 Incident refers to the military crackdown by the Chinese Nationalist Party (KMT) regime that began on Feb. 27, 1947. Tens of thousands were killed, the majority of them social elites and intellectuals.
Documentary director Hung Wei-chien (洪維健) said that about seven or eight years ago, he discovered the headstone with Huang's name while participating in a research project commissioned by the Foundation for Compensation of Improper Verdicts During the Martial Law Era — a semi-official organization in charge of compensating political victims and their families.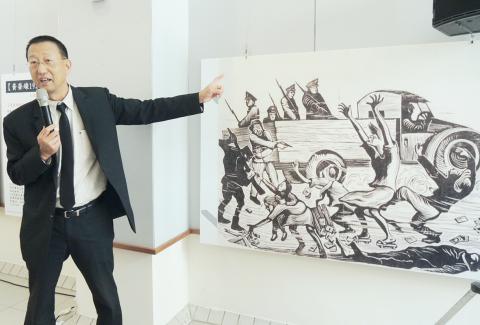 Documentary director Hung Wei-chien talks about the painting Terrible Inspection by Huang Rongcan, about the 228 Incident, in Chiayi County on Wednesday.
Photo: Yu Hsueh-lan, Taipei Times
"It was then that I became interested in the person [Huang] and started to try and piece together his life's story," Hung said, adding that he traveled to China to interview Huang's younger brother — who was 90 years old at the time.
Hung said he traveled across Japan to find out more about Huang and to gather more of his works.
According to Hung, Huang was born in China's Sichuan Povince and came to Taiwan in 1945. When the 228 Incident happened, he was working as an editor at a newspaper. He was so moved when he heard from a colleague of the 228 Massacre that he created the painting.
Last year, Hung produced a documentary titled Huang Rongcan's City of Sadness (黃榮燦的悲情城市) and also initiated an art exhibition tour featuring Huang's art works.
The original print of Terrible Inspection was given to Kakichi Uchiyama, a friend of Chinese novelist Lu Xun (魯迅), who was an acquaintance of Huang, before Uchiyama brought the print to Japan and donated it to Kamakura City's Museum of Modern Art, which was founded in 1951.
The print was not seen again until 1975, Hung said.
Though Huang did not suffer during the 228 Massacre, his political inclinations — leaning toward the political left — made him a target of oppression during the Marital Law era, and Huang was sentenced to execution by shooting in 1952 — aged 32 — due to his involvement in the Wu Naiguang (吳乃光) case.
According to the Ministry of National Defense ruling, Wu, hailing from China's Guangdong Province, a bookstore owner in Pingtung, continued his affiliation with the Chinese communists after coming to Taiwan with the then-KMT government.
Hung said that currently only New Tang Dynasty Television, an independent television channel founded by members of the Falun Gong and oversea compatriots, would screen his documentary, adding that other TV stations would only play the less politcally sensitive snippets of his documentary.
Chinese TV stations had also bought the documentary, and it is aired in China more often than in Taiwan, Hung said.
Hung, an activist supporting victims of the White Terror era and the 228 Incident, has spent a decade making documentaries for these victims, and said he could understand how they felt as he had also been imprisoned for five years on Green Island (綠島) along with his parents, who were jailed for attending a book club.
Comments will be moderated. Keep comments relevant to the article. Remarks containing abusive and obscene language, personal attacks of any kind or promotion will be removed and the user banned. Final decision will be at the discretion of the Taipei Times.