NCC unveils draft of act to prevent media monopolies
An act to prevent monopolization of the media, proposed by the National Communications Commission (NCC), would require media companies to file an application for a merger to proceed if the matter involves mergers in the broadcasting and print media sector, while the commission would not approve any case in which the media ownership concentration level has reached a specified "ceiling."
The commission yesterday unveiled the general legal framework of the act, which was titled "The broadcasting media monopolization prevention and diversity preservation act (廣播電視壟斷防制與多元維護法)."
Commission chairperson Howard Shyr (石世豪) said that members of the commission have yet to discuss each article in the act, adding that they would decide when the topic would be listed on their agenda the week after the Lunar New Year holiday.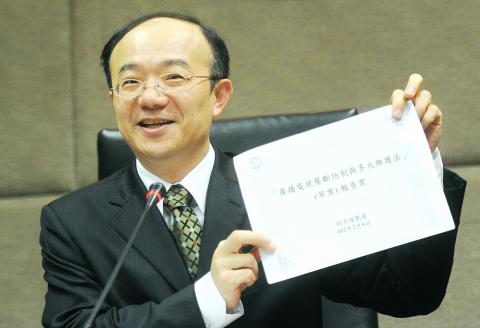 National Communications Commission Chairman Howard Shyr introduces a draft bill in Taipei yesterday aimed at preventing monopolization of the media.
Photo: Liu Hsin-de, Taipei Times
"Each commissioner has been given a stack of materials about the draft act to read over the holiday," Shyr said.
Based on Shyr's presentation, the legislation would tackle monopolization of the media and its negative influence on society through four different aspects: regulating media ownership concentration and cross-media monopolization; preserving the professionalism and independence of news media; facilitating the development of diverse cultures and citizens' autonomy; and facilitating laws under the jurisdiction of other government agencies.
Shyr said that the commission plans to adopt four different levels to regulate media ownership concentration and cross-media ownership. If the broadcasting media merge among themselves and have any change in management or operations, they would be obligated to file an application for the merger with the commission. The legislation would also regulate mergers in the broadcasting and print media sector.
"However, the commission cannot regulate mergers of newspapers, because the commission is not the administrative agency in charge of newspapers," Shyr said.
Though a certain merger case might endanger the public interest, Shyr said that the commission might still approve it by adding conditional clauses and ensuring that the parties involved in the case fulfill those clauses.
If the commission ascertains that a merger will definitely jeopardize the public interest and would not lead to normal market development, the government would in principle not approve it, Shyr said.
"The only exception would be that the parties in the mergers agree to the terms set by the commission and be willing to subject themselves to the commission's follow-up supervision and regulations," he added.
If a merger would cause the level of media ownership concentration to hit a set ceiling, Shyr said that there would be no need for the commission to investigate the facts of the deal and such a deal would be rejected unconditionally.
"The 'ceiling' we will set down will be very specific and will not be bent to accommodate different individual cases," he said.
Meanwhile, Shyr said that the commission would make sure that the proposed act would complement relevant laws in other government agencies.
The act, he said, would require that broadcast media present information about their operations to the commission to help it make informed decisions on cases.
Comments will be moderated. Keep comments relevant to the article. Remarks containing abusive and obscene language, personal attacks of any kind or promotion will be removed and the user banned. Final decision will be at the discretion of the Taipei Times.