Taichung election gives DPP hope for recall bids
POSITIVE SPIN: Despite having lost the by-election, the DPP said the KMT's slim victory in a pan-blue stronghold may mean that efforts to impeach KMT lawmakers will succeed
The Democratic Progressive Party (DPP) said it was optimistic about the possibility of recalling Chinese Nationalist Party (KMT) legislators because of the success the DPP candidate had in a legislator by-election in Greater Taichung.
Non-Partisan Solidarity Union member Yen Ching-piao (顏清標), a former legislator who represented the second electoral district in Greater Taichung, lost his seat after being convicted of corruption in November last year and sentenced to three-and-half years in prison.
Yen Kuang-hen (顏寬恆), Yen Ching-piao's son, stepped in to fill his fathers shoes in the by-election on Saturday, going up against DPP candidate Chen Shih-kai (陳世凱) and winning by less than 1,200 votes.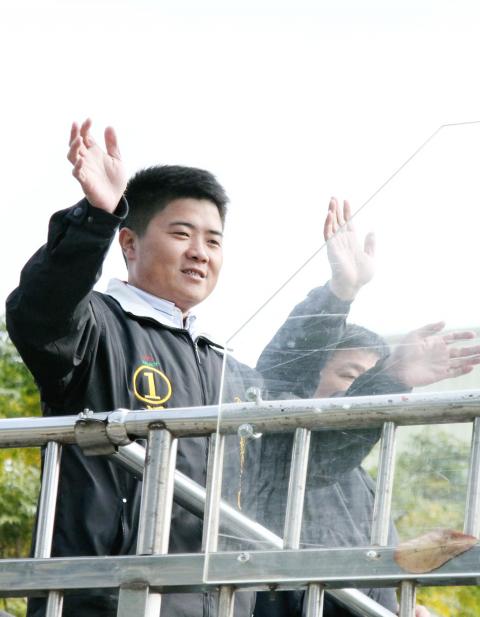 Chinese Nationalist Party (KMT) legislator-elect Yen Kuan-hen thanks voters for their support yesterday after winning Saturday's legislative by-election in Greater Taichung's second district.
Photo: CNA
DPP Legislator Chen Chi-mai (陳其邁) said that Chen Shih-kai's being able to close the gap between the DPP and the KMT to bring get nearly 50 percent of the votes after just 40 days of campaigning, compared with the 40 percent attained in the past, reflected the public's dissatisfaction with President Ma Ying-jeou's (馬英九) administration.
Chen Chi-mai also said that with support for the KMT-led government being so low, DPP efforts to impeach KMT legislators may be successful.
DPP Legislator Lee Ying-yuan (李應元) also said that Chen Shih-kai's performance in the election seems to indicate that if the DPP attempted to impeach legislators in constituencies where the it has a larger voter base, it had a good chance of gaining those constituencies.
Regardless of how future by-elections turn out, it would impose on Ma a severe critique of his administration's policies, Lee said.
Chen Chi-mai also offered his views on how the DPP should proceed, saying that the party should target legislators who are firmly entrenched in the Ma camp and KMT party caucus, or legislators with a reputation for disreputable conduct, and pick the DPP candidates that were within an 8 percent margin of victory in the legislative elections in Jan. 14 last year to stand in by-elections.
Chen Chi-mai said former premier Frank Hsieh (謝長廷) and former DPP chairman Yu Shyi-kun (游錫堃) should promote the impeachment of KMT legislators in Taipei and be by-election candidates if the impeachment succeeds.
The plan would assign the same tasks to former DPP chairperson Tsai Ing-wen (蔡英文) and DPP Chairman Su Tseng-chang (蘇貞昌) in New Taipei City (新北市), former vice president Annette Lu (呂秀蓮) in Taoyuan County, former Council of Agriculture chairman Su Jia-chyuan (蘇嘉全) in central Taiwan and former Presidential Office secretary-general Yeh Chu-lan (葉菊蘭) in southern Taiwan
Chen Chi-mai said potential targets for Su and Tsai were former KMT party whip Wu Yu-sheng (吳育昇) and KMT caucus whip Lin Hung-chih (林鴻池), while Yu should target the newly appointed KMT whip Lai Shyh-bao (賴士葆).
Chen Chi-mai also said that in areas where the DPP had lost, but in which it had a broader voter base, the party should nominate the same candidates as last year because this would help voters become more hopeful for changes in the political sphere.
Additional reporting by Lin Shu-hui
Comments will be moderated. Keep comments relevant to the article. Remarks containing abusive and obscene language, personal attacks of any kind or promotion will be removed and the user banned. Final decision will be at the discretion of the Taipei Times.