Ma conspicuous by absence from by-election campaign
MISSING IN ACTION: Sources say the local KMT party in Greater Taichung is attempting to distance itself as much as possible from the president
President Ma Ying-jeou (馬英九), who doubles as Chinese Nationalist Party (KMT) chairman, has so far been visibly absent from campaigning for his party's candidate in Saturday's Greater Taichung legislative by-election.
Democratic Progressive Party (DPP) counterpart, Su Tseng-chang (蘇貞昌), on the other hand, has made a number of trips to the central city to drum support for his party's candidate, Greater Taichung Councilor Chen Shih-kai (陳世凱).
According to Liao Wan-chien (廖萬堅), Chen's campaign camp spokesperson, Su, from late last month to a pre-election campaign rally planned for Friday, would have made a total of 10 visits to Taichung in support of Chen's electoral bid.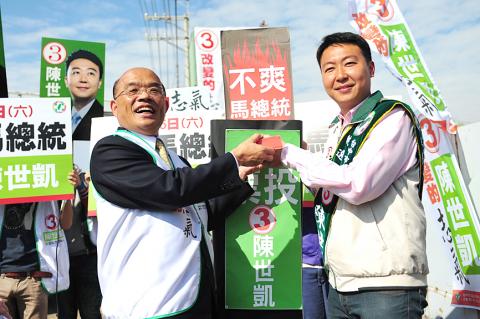 Democratic Progressive Party Chair Su Tseng-chang, left, campaigns in Greater Taichung yesterday for city councilor Chen Shih-kai, right, who is the party's candidate in a legislative by-election on Saturday.
Photo: Liao Yao-tung, Taipei Times
"Su came to our major events, including a motorcade parade, visiting the voters at market places and other campaign activities. Former DPP chairperson Tsai Ing-wen (蔡英文) and other party top brass have also come to root for Chen. There has been a concentrated effort by the whole DPP team," Liao said.
The by-election has been deemed as "the skirmish before the main battle to recall Ma," said Tseng Chao-jung (曾朝榮), director of the DPP's Greater Taichung branch.
"For this by-election, Ma has not dared to come, not even once. Even the KMT's campaign team here does not want to talk about Ma [during its campaign,]" Tseng said. "So far the biggest name from the KMT [to campaign for KMT candidate Yen Kuan-hen (顏寬恆)] is [Greater Taichung Mayor] Jason Hu (胡志強 )."
Yen Kuan-hen is the son of former Non-Partisan Solidarity Union legislator Yen Ching-piao (顏清標), who was found guilty of corruption and sentenced in November last year to three-and-half years in prison.
Yen Kuan-hen, 35, served as an assistant to his father before the latter's conviction. The KMT last month announced that Yen Kuan-hen would run against Chen.
Sources say that within the pan-blue camp, the general opinion is that the local party in Greater Taichung is trying to distance itself from Ma as much as possible in its electoral campaign.
A number of KMT city councilor privately said during campaigning that people would heap scorn on Ma whenever the KMT was mentioned. The campaign has been difficult and if the DPP wins Ma will be held responsible, they said.
Greater Taichung City Council Speaker Lin Shih-chang (林士昌) of the KMT was reluctant to speak about Ma's role, saying only that a number of KMT mobilizing organizations, including Hu, "have been very helpful."
Comments will be moderated. Keep comments relevant to the article. Remarks containing abusive and obscene language, personal attacks of any kind or promotion will be removed and the user banned. Final decision will be at the discretion of the Taipei Times.