US senator presses Ma on Chen's health
While meeting with President Ma Ying-jeou (馬英九) yesterday, US Senator Lisa Murkowski voiced concerns over former president Chen Shui-bian's (陳水扁) health and the conditions of his imprisonment.
"I have inquired about his [Chen's] status and his health with President Ma. I think it's important that, as a former president, he is treated with a level of respect and care," Murkowski said later yesterday as she took a few questions from local reporters after attending a luncheon hosted by Legislative Speaker Wang Jin-pyng (王金平).
In a separate meeting with Democratic Progressive Party (DPP) Chairman Su Tseng-chang (蘇貞昌), Murkowski was quoted by the director of the DPP's Policy Research Committee Executive, Joseph Wu (吳釗燮), as telling Su that Ma has said a medical parole for Chen "would not be possible."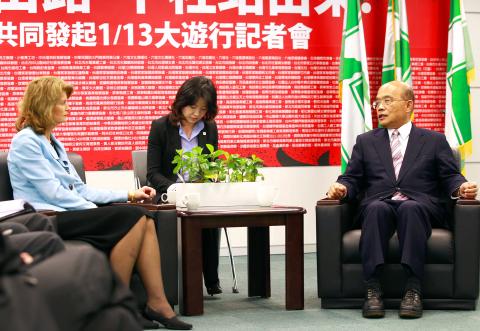 Democratic Progressive Party Chairman Su Tseng-chang, right, talks to Republican US Senator Lisa Murkowski, left, at the party's headquarters in Taipei yesterday.
Photo: Li Hsin-fang, Taipei Times, courtesy of the Democratic Progressive Party
However, the senator also told Ma that the international community is closely watching how Taiwan is treating its former president and whether Chen's case and trial has been handled fairly and transparently, Wu quoted Murkowski as saying.
She reassured Ma that Washington would not interfere with Taiwan's judicial independence, but would continue monitoring Chen's case, Wu said.
Chen, serving a 18-and-a-half-year sentence for corruption in Taipei Prison, has been hospitalized since Sept. 21 last year and his family has on several occasions expressed doubt over the hospital's credibility because it falls under the government's Veterans Affairs Commission.
Murkowski said she has hoped to visit Chen in person during her stay, but was unable to do so because of limited time.
After arriving in Taiwan at 3am yesterday, Murkowski met with Ma at the Presidential Office later in the morning. She was scheduled to leave at 6am this morning.
Meanwhile, Wu added that Su and Murkowski also exchanged views on Taiwan's national defense and its role in regional stability during their 60-minute meeting.
"The senator's meeting with Su primarily focused on two issues: Taiwan's national defense and regional stability and Taiwan's democratic development," Wu said.
Su expressed concern about the Ma administration's provocative moves in the past year in the East China Sea as the senator from Alaska urged Taiwan to maintain close ties with Japan and the US, Wu said.
Murkowski, who expressed strong support for Taiwan's procurement of F-16C/D fighter jets during former US president George W. Bush's administration, also urged Taiwan to allocate sufficient funds for the arms procurement.
Wang and Chinese Nationalist Party (KMT) legislators had pledged to the senator that "the budget issue for F-16C/Ds and F-35s would be appropriately addressed," Wu quoted Murkowski as saying.
Wu said that Ma has yet to submit Taiwan's wish list for advanced weapons, such Aegis-equipped destroyers, since he took office in 2008.
The senator and Su also exchanged views on the current status of Taiwan's democracy.
"Senator Murkowski, who was briefed by her acquaintances in Taiwan yesterday morning, agreed that the judicial and media environment were 'troubling,'" Wu said.
Murkowski also mentioned the possibility of natural gas trade between Taiwan and Alaska, which was discussed during her trip to Taiwan in 2006, when Su served as premier.
As Taiwan is mulling on an alternative energy to replace nuclear power, natural gas would be an option for generating electricity, Wu quoted Murkowski as saying.
Comments will be moderated. Keep comments relevant to the article. Remarks containing abusive and obscene language, personal attacks of any kind or promotion will be removed and the user banned. Final decision will be at the discretion of the Taipei Times.