Farglory Ocean Park successfully hatches nautilus
The Farglory Ocean Park in Hualien has become the first in the country to hatch the ancient marine animal the nautilus, which is said to have an average survival rate of less than one in 1,000 after hatching.
The park said that because the incubation period of the nautilus is more than 365 days and there are still a number of unsolved mysteries about it, observers from the National Museum of Marine Biology and Aquarium, the National Dong Hwa University and Japan's Toba Aquarium have been sent to the park to study the animal.
Farglory Ocean Park chief executive officer Wu Fang-rong (吳方榮) said the nautilus has long been a mystery and the first operational nuclear-powered submarine used by the US in the 1950s was also named the Nautilus.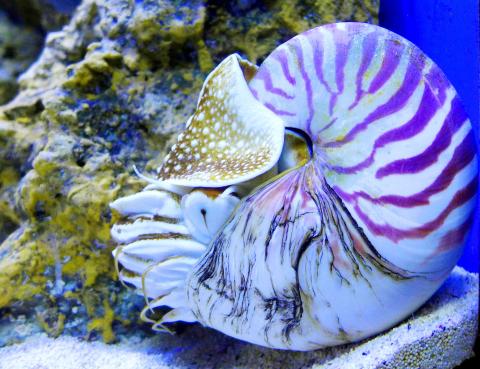 A marine nautilus is pictured in Hualien on Saturday.
Photo: Yu Tai-lang, Taipei Times
The submarine mimicked the way the nautilus floats and sinks in the water, he said, adding that while most shellfish or snails have asymmetrical, spiral shells and no chambered sections, the nautilus' spiral shell is symmetrical and there is a small tube connecting the chambered sections, but it is a mystery how the animal evolved to have such a body structure.
The ideal environmental conditions for breeding the nautilus are still unknown, so success rates of breeding or hatching the species are still very low, he added.
Hong Kong's Ocean Park had nautilus lay eggs in 2005, but failed to hatch them. So far, only Japan's Toba Aquarium has succeeded in hatching the nautilus, in 1995. Upon learning of the Farglory Ocean Park's recent success in hatching the animal after two years of efforts, the Toba Aquarium has expressed its desire to work with the park, Wu said.
Wu said the water quality, temperature, flow and density were carefully monitored at all times during the 365 days of incubation and the nautilus hatched on Dec. 21.
The nautiluses still have a high-risk of dying within the first hundred days after hatching and the survival rate of the animal is still less than one out of a thousand during the first six months after incubation, adding that it is still a mystery why most of them suddenly stop eating and die during this period.
Comments will be moderated. Keep comments relevant to the article. Remarks containing abusive and obscene language, personal attacks of any kind or promotion will be removed and the user banned. Final decision will be at the discretion of the Taipei Times.