Economy needs innovative 'wings': Tsai
Taiwan needs a pair of wings to lift its economy and emerge from its current economic stagnation, and improvements to local economies and value-added innovation would serve as those wings, former Democratic Progressive Party (DPP) chairperson Tsai Ing-wen (蔡英文) said yesterday.
The development of local economies with a range of characteristics and job creation potential as well as industrial competitiveness coming from value-added innovation and entrepreneurship are crucial for the creation of a new driving force for the economy, Tsai wrote on her Facebook page.
"Neither is dispensable for Taiwan to develop its economy in the face of global financial crisis and future challenges," Tsai wrote.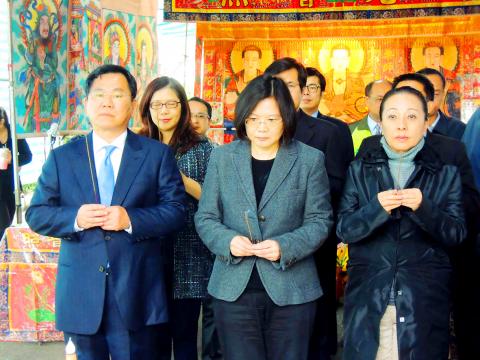 Former Democratic Progressive Party chairperson Tsai Ing-wen, front center, accompanied by several legislators and county commissioners, pays her respects to the recently deceased mother of Greater Kaohsiung mayor Chen Chu at the Chen family home in Yilan County yesterday.
Photo: Yang Yi-min, Taipei Times
Agriculture is the key to developing local economies, Tsai said.
The former DPP presidential candidate called for a comprehensive review of the fallow land agricultural policy and for the government to assume a managerial role in developing those lands, without taking property rights away from farmers.
Taiwan was forced to implement fallow agricultural policies after its accession to the WTO in 2002, making the Council of Agriculture "more of a subsidy distributing agency than a policy formulating agency," she said.
The council's role should be changed and the ministry should lease fallow land at higher prices than past subsidies so the areas can be utilized to increase agricultural production.
The other wing would be "innovation, entrepreneurship and high value-added products," which Stan Shih (施振榮), former chairman of the computer manufacturer Acer, also advocated, she said.
Tsai encouraged young people to establish their own businesses with courage and confidence, the same way their grandparents and parents did in the post-World War II era, which later became known as "Taiwan's economic miracle."
"It's time for young people in Taiwan to create their own businesses using innovative ideas. The passion of these young entrepreneurs would get Taiwan's economy moving again," she said.
Asked on the sidelines of a folk ceremony in Yilan County yesterday about the current socio-political atmosphere and whether the Cabinet should be replaced, Tsai told reporters that people seem to be experiencing a collective fear caused by financial hardship.
She did not say whether there should be a Cabinet reshuffle, but said "Taiwanese are very aware of how well the administration has performed."
Comments will be moderated. Keep comments relevant to the article. Remarks containing abusive and obscene language, personal attacks of any kind or promotion will be removed and the user banned. Final decision will be at the discretion of the Taipei Times.