Pro-China stance risks Japan ties: Koh
The man likely to become the new prime minister of Japan, Shinzo Abe, could turn out to be Taiwan's biggest enemy if Taipei chooses to maintain the pro-China stance it has adopted under President Ma Ying-jeou's (馬英九) administration, former representative to Japan Koh Se-kai (許世楷) said yesterday.
Known for his friendliness toward Taiwan, Abe has also been aware of Taipei's gradual tilting toward Beijing, which poses a strategic threat to Japan, Koh said at the launch of his new book yesterday.
"Abe is one of Taiwan's most trustworthy Japanese allies. However, I'd say the length of that friendship will be determined by which path Taiwan chooses to walk on: the pro-China path or the pro-US-Japan one," said Koh, who served as Taiwan's top diplomat to Japan between 2004 and 2008.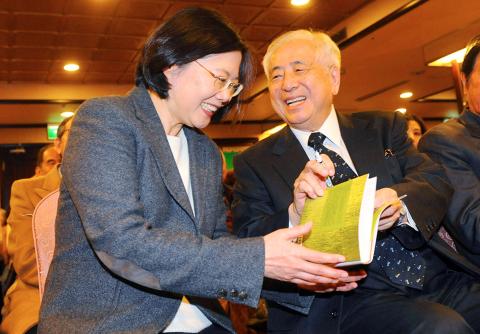 Former Taiwanese representative to Japan Koh Se-kai, right, yesterday speaks with former Democratic Progressive Party chairperson Tsai Ing-wen during the launch of his new book in Taipei.
Photo: CNA
The solid relationship between Japan and Taiwan that Koh established during his diplomatic career has started to crack under Ma's pro-China administration, as evidenced by Japan's initiative to expand its air defense identification zone (ADIZ) on Yonaguni Island, Japan's westernmost island about 110km from Hualien County.
Koh said that Japan has proposed expanding its ADIZ to include the western half of the island, which has been under the jurisdiction of Taiwan's ADIZ, twice in June 2010 and this year, a move which suggested that Tokyo is concerns about Taipei's strategic stance.
The Taiwan Relations Act, which the US Congress passed in 1979, and the US-Japan Treaty of Mutual Cooperation and Security are two of the most important legal documents for Taiwan in terms of security, he said, adding that the Ma administration should be cautious in choosing which partnership would best serve the nation's interests.
Commenting on the challenges Abe would face if he becomes prime minister, Koh said that Abe will have to reinvigorate Japan's slow economy, resolve the escalating dispute over the country's use of nuclear power as well as make a decision on whether to raise the consumption tax, a policy championed by the previous administration.
However, the potential policy which is being watched most attentively by international and domestic observers is Abe's wish to amend the Japanese constitution, in particular Article 9, which is a pacifist clause that renounces war and the use of force, Koh said.
Comments will be moderated. Keep comments relevant to the article. Remarks containing abusive and obscene language, personal attacks of any kind or promotion will be removed and the user banned. Final decision will be at the discretion of the Taipei Times.