Taiwanese students are less confident than Chinese counterparts, survey finds
A magazine survey of university students in Taiwan and China born after 1990 has found that Taiwanese students are less confident in their market competitiveness than their Chinese peers.
The survey, conducted by CommonWealth Magazine between Oct. 31 and Nov. 23, found that Taiwanese respondents rated their level of competitiveness sixth among students from seven Asian countries and territories, while ranking their Chinese counterparts first.
Chinese respondents rated themselves the second-most-competitive group, trailing students from Hong Kong. They ranked Taiwanese students fifth, behind students from Japan and Singapore, but ahead of their counterparts from South Korea and India.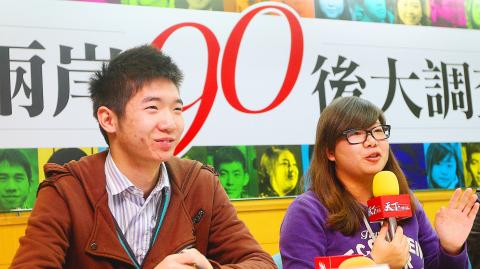 Luo Mian, a student at China's Peking University, left, and Chang Chih-ling, a student at Taiwan's National Cheng Kung University, speak at a press conference held by CommonWealth Magazine in Taipei yesterday.
Photo: CNA
The survey also found that when asked which public figure the students most admired, Taiwanese respondents tended to favor entrepreneurs, citing Wowprime Corp chairman Steve Day as their most admired figure, ahead of late Apple Inc founder Steve Jobs and TSMC chairman Morris Chang (張忠謀).
In contrast, the Chinese respondents favored politicians and writers, citing Chinese Premier Wen Jiabao (溫家寶) as the most admired figure, with former premier Zhu Rongji (朱鎔基) fourth and blogger Han Han (韓寒) fifth. The country's revolutionary leader Mao Zedong (毛澤東) and the premier during Mao's reign, Zhou Enlai (周恩來), also made the top 10.
The survey also found that respondents from both Taiwan and China most wanted to work for foreign companies, followed by state-owned companies for Chinese students and private companies for Taiwanese students.
However, more than 40 percent of the respondents were not optimistic about their job prospects, with more Chinese students than Taiwanese students expressing anxiety over the future.
The magazine said sizeable wage increases in China over the past two years because of its rapid economic growth and Taiwan's stagnant salary structure had narrowed the gap in expectations for starting salaries on the two sides of the Taiwan Strait.
Chinese respondents most commonly cited 5,000 yuan a month (NT$23,313) as a starting-salary expectation, compared with the NT$25,000 cited by most Taiwanese students.
Day, who was at the news conference held by the magazine to present the survey's findings, said entrepreneurs should respond to the anxieties of the younger generation.
Comments will be moderated. Keep comments relevant to the article. Remarks containing abusive and obscene language, personal attacks of any kind or promotion will be removed and the user banned. Final decision will be at the discretion of the Taipei Times.