Activists look back on start of FAPA
Pioneering democracy activists yesterday reminisced about the establishment and the achievements of the Formosan Association for Public Affairs (FAPA) ahead of its 30th anniversary and said the organization's main goal would be safeguarding Taiwan's sovereignty.
"In terms of diplomacy and protection of human rights in Taiwan, the association has done more in the past 30 years than the Chinese Nationalist Party (KMT) administration has," former Democratic Progressive Party (DPP) lawmaker Chai Trong-rong (蔡同榮) and former foreign minister Mark Chen (陳唐山), FAPA's first and second presidents, told a press conference.
Chai and Chen, high-school classmates in Chiayi, had never imagined that they would enjoy prominent political careers when they began advocating independence for Taiwan in the US in the 1960s and established the FAPA in Los Angeles, California, on Dec. 8, 1982.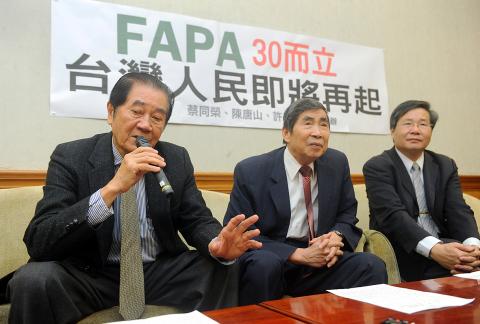 Former foreign minister Mark Chen, former Democratic Progressive Party legislator Chai Trong-rong and Taiwan Solidarity Union Legislator Hsu Chung-hsin, left to right, speak during a press conference in Taipei yesterday to promote the upcoming 30th anniversary of the Formosan Association for Public Affairs.
Photo: Liao Chen-hui, Taipei Times
Today, FAPA is a Washington-based lobbying organization made up of 53 chapters and more than 3,000 members that promotes Taiwan-US relations and cooperation as well as rights and interests of the Taiwanese.
According to Chai, the birth of FAPA was accidental because the overseas Taiwanese students wanted to establish a radio station in Guam at first.
With the Taiwanese-American community's success to help Taiwan gain a quota of 20,000 immigrants to the US per year — after the original quota of 20,000 was given to China due to the establishment of diplomatic relations between China and the US, democracy advocates in the US thought it was the right time to establish an organization like FAPA.
"Young people are probably not aware of what the FAPA has done, because they are too young to experience the Martial Law period and the days of serious infringement of human rights in Taiwan. But I'm proud to say that FAPA had played a pivotal role in helping Taiwan become a democracy it is today," Chen said.
However, Chen said the organization would have to shift its focus from human rights to Taiwan's sovereignty, as the latter had been eroded tremendously since President Ma Ying-jeou (馬英九) took office in 2008.
Taiwan Solidarity Union Legislator Hsu Chung-hsin (許忠信) is scheduled to make a speech at the ceremony of FAPA's 30th anniversary, which former vice president Annette Lu (呂秀蓮) and DPP representative to the US Joseph Wu (吳釗燮) would also attend, at San Jose, California, on Saturday.
Comments will be moderated. Keep comments relevant to the article. Remarks containing abusive and obscene language, personal attacks of any kind or promotion will be removed and the user banned. Final decision will be at the discretion of the Taipei Times.