Ma stalls on national affairs conference
MORE 'BUMBLING'? Ma rejected the idea in favor of 'consultative meetings' with Su and Tsai, which they have declined, urging public dialogue on labor insurance
Democratic Progressive Party (DPP) Chairman Su Tseng-chang (蘇貞昌) said yesterday that he would continue to run an online campaign in support of convening a national affairs conference.
Former DPP chairperson Tsai Ing-wen (蔡英文) last week proposed that President Ma Ying-jeou (馬英九) convene a national affairs conference to deal with the financially troubled public pension systems and the economy in general. The DPP's Central Standing Committee also passed a resolution on Wednesday calling on Ma to hold a national affairs conference.
Ma rejected the idea, instead inviting Su and Tsai to join a "consultative meeting on state policy."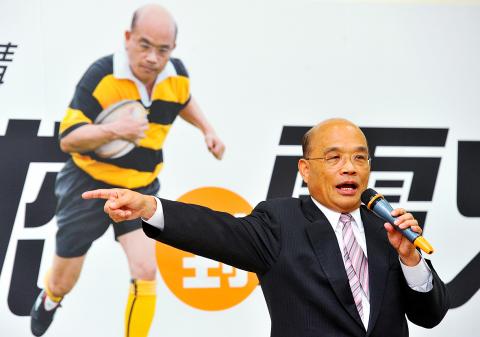 Democratic Progressive Party Chairman Su Tseng-chang speaks at the National Taipei University of Technology yesterday in Taipei.
Photo: Chien Jung-fong, Taipei Times
Presidential Office spokesman Fan Chiang Tai-chi (范姜泰基) told a press conference on Friday evening that Ma hoped to invite Su and Tsai to discuss issues at the Presidential Office, and whatever resulted from the discussion would be submitted to the Cabinet for reference, Fan Chiang said.
The president said he hoped the meeting could take place as soon as possible, Fan Chiang added.
Asked whether Ma will meet Su and Tsai individually or together, Fan Chiang said the details would be left up to Su and Tsai to decide.
However, both Tsai and Su have declined the invitation. Referring to an article published in the latest edition of the UK's The Economist magazine titled "Ma the bumbler," Su said the weekly was authoritative and that such a report damaged the image of the president as well as that of Taiwan.
"The public, including the DPP, would like more than anything to help Ma and the country improve at this point in time," Su said, reiterating the need for a national affairs conference.
Separately yesterday, Tsai was also asked to respond to the article in The Economist, and said that she did not expect a president to be an all-around expert, but that he or she should be a leader able to guide the country in times of turmoil by engaging in dialogue with citizens. The president should guide society in facing and solving problems by engaging in dialogue, she added.
If Ma still thinks the issues facing Taiwan can be solved simply through meetings with opposition leaders, then he has forgotten that Taiwan is a democratic society in which public engagement in state affairs is crucial, Tsai said.
Comments will be moderated. Keep comments relevant to the article. Remarks containing abusive and obscene language, personal attacks of any kind or promotion will be removed and the user banned. Final decision will be at the discretion of the Taipei Times.