Health authority urges at-risk public to get flu jab
WINTER WARMER: A simple vaccination will help the elderly and the very young, among others, fight off the viral infection, the Centers for Disease Control said
Many of the people who qualified for publicly funded influenza vaccine jabs showed up at hospitals nationwide yesterday as the Department of Health's Centers for Disease Control (CDC) encouraged those at a higher risk of infection to get the booster as soon as possible.
Publicly funded influenza jabs are provided to people at risk, including children between six months in age up to elementary-school age, elderly people 65 years old and above, people living in care centers, people with severe illness or rare diseases and those working in the fields of medicine, hygiene and disease control or animal husbandry, the CDC said.
At Taipei City Hospital's Heping Branch, about 100 elderly people and people with small children waited in line to register for the injection on the morning of the first day the boosters were administered with CDC Director-General Chang Feng-yee (張峰義) also receiving an injection as a demonstration to the public.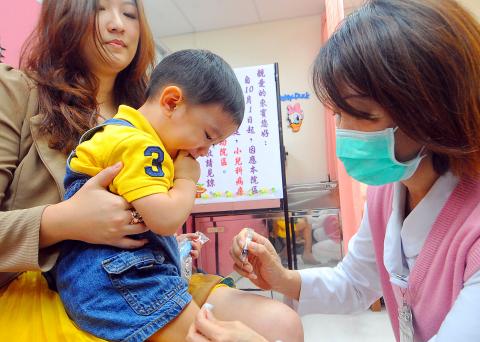 A nurse administers influenza vaccine to a boy in Taipei as hospitals begin providing this year's flu-fighting compound yesterday.
Photo: Wang Min-wei, Taipei Times
Influenza vaccinations are the most effective method for preventing the cold-forming virus and the publicly funded anti-influenza drive is in accordance with many other countries. To increase the vaccination rate of higher risk groups, authorities this year are targeting fifth and sixth-grade elementary-school students, Chang said.
"It takes about a month for antibodies which have the required capacity for protection to build up in the body," Chang said, while also encouraging the first criteria target group to get the injection before late November — ahead of the peak period for the spread of influenza.
According to CDC statistics, there have been 247 reported cases nationwide of complications arising from influenza since July 1 — 94 percent of these people had been infected with Type AH3 influenza and the strain had infected 22 of the 23 flu-related fatalities which have been seen so far this year.
"The strain of virus is different from the vaccine on offer last year, but the effects should be better in preventing this year's prevalent influenza virus," Chang said.
The CDC said people who have the vaccination administered may feel a soreness in their muscles, experience headaches or be affected by fever, but the symptoms would pass after a couple of days in most cases.
Comments will be moderated. Keep comments relevant to the article. Remarks containing abusive and obscene language, personal attacks of any kind or promotion will be removed and the user banned. Final decision will be at the discretion of the Taipei Times.